Academic Orthodoxy Is A Bigger Threat Than Climate Change
1) Physicist Who Foresees Global Cooling Says Other Scientists Tried To 'Silence' Her
The Washington Times, 10 August 2016
Valerie Richardson

A physicist who foresees a 30-year period of global cooling says other climatologists have tried to "silence" her latest research on solar cycles.

Valentina Zharkova, a professor at Northumbria University at Newcastle in the United Kingdom, said the Royal Astronomical Society received requests to withdraw a press release on her team's latest research pointing to a significant drop in solar activity by mid-century. [...]

"Some of them [scientists] were welcoming and discussing. But some of them were quite, I would say, pushy," said Ms. Zharkova in a video interview posted Tuesday by the Global Warming Policy Forum. "They were trying to actually silence us. Some of them contacted the Royal Astronomical Society demanding behind our back that they withdraw our press release."

She said the society refused. "The Royal Astronomical Society replied to them and cc'd to us, and said, 'Look, this is the work by scientists who we support, please discuss this with them,'" she said.

"We had about eight or 10 exchanges by email when I tried to prove my point, and I'm saying, 'I'm willing to look at what you do,'" Ms. Zharkova said.

She offered to work with the scientists by adding their data to her results, but she said that "they didn't want to."

The press release on her research, "Irregular heartbeat of the Sun driven by double dynamo," was posted on 9 July [2015] on the society's website.

Her sunspot modeling indicates a reduced solar magnetic field from 2020 to 2053, producing conditions similar to those during the Maunder Minimum, or "Little Ice Age," a 65-year period of reduced solar activity and low global temperatures during the 17th century.


"We didn't have many measurements in the Southern hemisphere, we don't know what will happen with that, but in the Northern hemisphere, we know it's very well protocoled," Ms. Zharkova said. "The rivers are frozen. There are no winters and no summers, and so on."

Her research has been controversial because it appears to challenge the prevailing climate-change consensus predicting rising global temperatures from increased carbon dioxide from human-caused emissions in the atmosphere.

"Of course, things are not the same as they were in the 17th century — we have a lot more greenhouse gas in the atmosphere," the GWPF said in its post. "And it will be interesting to see how the terrestrial and the solar influences play out."

Full story

2) Editorial: Global Warming Extremists Try To Silence Science — Again
Investor's Business Daily, 11 August 2016

Global warming advocates like to pretend they are open-minded, all about science. But let someone else's science get in the way of their "consensus," and you find out how little they really believe in science.


Just ask Professor Valentina Zharkova of Britain's Northumbria University. She and a team of researchers conducted a study on sunspots, which are known to have a strong effect on solar radiation and thus on the Earth's climate.

What they found was remarkable: solar activity, based on models that closely fit past trends, looks to be headed for a sharp downward turn. Indeed, activity could decline to levels not seen since the so-called "Little Ice Age," an unusually cold period that stretched across the Northern Hemisphere and lasted from roughly 1650 to 1850.

As such, a study of this kind, you might think, would be incredibly important. But instead of being greeted with scientific questions or open curiosity about her group's study, Zharkova's team was met with a most unscientific hostility.
"Some of them were welcoming and discussing," she said in an interview with The Global Warming Policy Forum. "But some of them were quite — I would say — pushy."

And some went well beyond just "pushy."

"They were trying to actually silence us," said Zharkova. "Some of them contacted the Royal Astronomical Society, demanding, behind our back, that they withdraw our news release."

Global warming scientists, among whom are some real fanatics, often style themselves as latter-day Galileos, standing strong against superstition and religion and bravely taking a stand for scientific truth, just as Galileo did by saying that the Earth revolved around the Sun, and not vice versa.

But they are nothing of the sort. Indeed, many of these so-called scientists have more in common with Galileo's persecutors than with those who have bravely pushed scientific understanding of our universe and all its workings forward.

For the record, Zharkova isn't alone in her conclusions. Other recent studies, including ones found here and here, suggest the Sun is headed for a period of extremely low activity — which means, all other things being equal, lower temperatures for much of the Earth.

No, the problem isn't the science. The problem is such research is an uncomfortable impediment of the global warming complex's unholy alliance of green interest groups, clueless movie stars, bought-and-paid-for scientists, big government politicians, and even some major corporations that see new global warming regulations as an easy way to crush their smaller competitors.

With global governments spending billions of dollars a year on climate change, almost all of it on those who believe the global warming dogma, there's too much at stake to allow a heretic to question the orthodoxy. That's why Zharkova and others are greeted with unscientific hostility.

Anyone who thinks this type of behavior is "science" is wrong. It's not even right to call it "religion," as some have, using that term as a pejorative. In fact, truly religious people actually question their faith. Only global warming's legions of true believers don't.

3) Academic Orthodoxy Is A Bigger Threat Than Climate Change
CapX, 9 August 2016
Jamie Whyte

Jarod Gilbert is a sociology lecturer at the University of Canterbury here in New Zealand. According to the byline of an article he published in a national newspaper last week, he "specialises in research with practical applications".

His latest practical suggestion can be found in the title of his article: "Why climate denial should be a criminal offense". According to Dr Gilbert,

"the scientific consensus [for catastrophic manmade climate change] is so overwhelming that to argue against it is to perpetuate a dangerous fraud".

In 1915, you would have been hard pressed to find a physicist who believed that time slows down under gravitational force. Yet this is entailed by Albert Einstein's general theory of relativity, first published that year. It was lucky for Einstein, and for the progress of science, that Dr Gilbert's proposed prohibition on scientific dissent was not then in force.

If Dr Gilbert were a maverick academic authoritarian, we might simply chuckle. Alas, his proposal is characteristic of a rising culture of intellectual intolerance. Even at universities, many people seek victory for their opinions not by force of argument and evidence but by brute force – by laws like the one suggested by Dr Gilbert, by banning dissenters from speaking on campus, by campaigning for the dismissal of heretical lecturers or by shouting them down.

These new authoritarians usually declare a commitment to science. They merely wish to silence those who go against it. But this desire reveals a profound confusion about science – or, at least, about the element of science that should be protected. They seek to protect the particular theories that are currently orthodox by undermining the free competition between ideas that explains the extraordinary success of science over the last 500 years.

In this way, the new intellectual protectionists are like economic protectionists who recommend tariffs or subsidies to protect current businesses from competition. They aim to promote their favoured businesses in a way that undermines the competitive and entrepreneurial process that explains the extraordinary economic progress of the last 250 years.

What is going on? Why are universities becoming bastions of intellectual protectionism?

The analogy with business protectionism provides part of the answer. Competition between suppliers is good for consumers, be they consumers of ideas or of goods and services. But it isn't much fun for the suppliers. Like businessmen, academics invest in their endeavours, often betting their careers on a theory, and they stand to lose much if competing ideas prevail. Using force to hinder competitors will always be a temptation.

But that is why self-interest can be only part of the answer. Self-interest is timeless but intellectual protectionism is on the rise. We need a change to explain it. What's new that might explain the waning of patience with debate and dissent?

It is the increasing sense of moral superiority among self-described progressives, who make up the vast majority of academics and university students. That's my hypothesis. If you think you have attained a morally perfect world view, you can only regret debate. People with weaker minds than yours may be led astray by dissenters. Why risk it?

Full post

4) New Study: Climate Change Is Not The Biggest Threat To Wildlife
Daily Mail, 11 August 2016
Ellie Zolfagharifard

The main driver of wildlife extinction is not climate change, but humanity's harvesting of species and our ever-expanding agricultural footprint. This is according to a new study of nearly 9,000 'threatened' or 'near-threatened' species.

This graphic shows the main causes of biodiversity decline. By far the greatest is overpopulation, followed by agriculture and urbanisation

While scientists acknowledge climate change is a threat, they found that three-quarters are being over-exploited for commerce, recreation or subsistence.

The main driver of wildlife extinction is not climate change but humanity's harvesting of species and our ever-expanding agricultural footprint. For instance, demand for meat and body parts has driven the gorilla to near extinction

Demand for meat and body parts, for example, have driven the Western gorilla and Chinese pangolin to near extinction, and pushed the Sumatran rhinoceros – prized in China for bogus medicines made from its horn – over the edge.

And more than half of the 8,688 species of animals and plants evaluated are suffering due to the conversion of their natural habitats into industrial farms and plantations, mainly to raise livestock and grow commodity crops for fuel or food.

By comparison, only 19 per cent of these species are currently affected by climate change, they reported in a study published in the peer-reviewed journal Nature.
Conservation budgets, the researchers argued, must reflect this reality.

'Addressing the old foes of overharvesting and agricultural activities are key to turning around the biodiversity extinction crisis,' said lead author Sean Maxwell, a professor at the University of Queensland in Australia.

These threats, rather than climate change, 'must be at the forefront of the conservation agenda,' he said in a statement.

The provocative appeal – which elicited sharp reactions – comes a month before a crucial meeting of the International Union for Conservation of Nature (IUCN.)
The IUCN also manages the gold-standard Red List of endangered species, tracking and cataloguing the health of Earth's flora and fauna.

Climate change has overshadowed more traditional conservation priorities over the last decade, siphoning limited resources – and cash – away from more urgent needs, the authors argued.

Full post

5) Will Radical Green Agenda Lead To Split Of The National Trust?
The Times, 12 August 2016
Richard Morrison

If Dame Helen Ghosh's management of her organisation were exemplary, her thoughts on how humanity should manage the planet might be more welcome.


Is she accident prone or publicity hungry? Rescuing a great institution from irrelevance or making it a soapbox for trendy causes? Right or wrong?

I'm talking about Dame Helen Ghosh, the director-general of the National Trust, whose urge to give the world the benefit of her views on everything from climate change to housebuilding to farming techniques to renewable energy appears indefatigable. Or as Lord Vinson put it in a letter to The Times this week, "Are there no restraints on Dame Helen Ghosh from trumpeting personal opinions with which many members may not agree?"

I imagine that Ghosh won't be too upset to have rattled the cage of an 85-year-old industrialist who puts money into a think tank intent on belittling the whole notion of climate change. Quite the opposite. A former permanent secretary at the Home Office (where she served under Theresa May), she seems to be revelling in her new-found licence to speak out on any issue that takes her fancy.

Even so, Vinson's letter must have struck a chord with many of the National Trust's 4½ million members. Most pay their £63 annual fee because the organisation looks after hundreds of stately homes and glorious landscapes that they enjoy visiting, not because they want to bankroll an environmental lobby-group.

Yet Ghosh's opinions keep on coming. Last week she gave us her six-point battle plan for dealing with Britain's farmers after Brexit — which boils down to withdrawing all subsidies unless they sign up to a radical environmentalist agenda in which the first priority seems to be protecting "wildflowers, bees and butterflies".

A few months ago the bee in her bonnet was climate change, which she said was a legitimate concern of the trust because bits of its land are "falling into the sea".

She announced a ten-year plan to "nurse the natural environment back to health and reverse the alarming decline in wildlife". Quite an agenda for an organisation whose remit doesn't even extend to Scotland, let alone China.

She also had to clarify her views on fracking and wind farms, claiming that journalists were printing "selective quotes". Well, obviously they are. So thick and fast is the splatter of Ghosh-babble that you have to be selective.

If Ghosh's management of her organisation were exemplary, her views on how humanity should manage the planet might be more welcome. However, a series of embarrassing blips have marred her four years in charge. Two years ago it was revealed that, despite having an income of about £500 million and giving its top officials salaries well over £150,000, the trust was paying 2,000 of its 12,000 staff less than the living wage — which was then £7.85 an hour. [...]

The veteran historian and curator Sir Roy Strong, an indefatigable critic of what he sees as the trust's "relentless push downward", suggests splitting the organisation in two. The great collection of stately homes and their gardens could be entrusted to someone with a grasp of art and architectural history and a flair for promoting their glories without trivialising them. Meanwhile, Ghosh would be left with the landscapes, woodlands and coastlines, giving her a stronger mandate for speaking out on environmental matters.

Full story

see also:



*

National Trust Blames Climate Change For Its Crumbling Homes




*

Climate Change "Biggest Threat" To National Trust



6) Scientists Blame Volcano For the 'Pause' In Sea Level Rise
Daily Caller, 11 August 2016
Michael Bastasch

Climate scientists at a federally-funded research institute say a massive volcanic eruption during the early 1990s "masked" the acceleration in sea level rise due to man-made global warming.

Scientists with the National Center for Atmospheric Research (NCAR) say the 1991 eruption of Mt. Pinatubo "masked the acceleration that would have otherwise occurred" in sea level rise due to global warming. They also said sea level rise will get even worse as the world warms.

"This study shows that large volcanic eruptions can significantly impact the satellite record of global average sea level change," Steve Nerem with the University of Colorado Boulder, where NCAR is located, said in a statement.

"So we must be careful to consider these effects when we look for the effects of climate change in the satellite-based sea level record," Nerem said.

Climate models projected sea levels to rise as greenhouse gases warmed the atmosphere, causing thermal expansion of the oceans and melting the polar ice caps. But that didn't happen, and sea level rise slowed during the 2000s.

"In stark contrast to this expectation however, current altimeter products show the rate of sea level rise to have decreased from the first to second decades of the altimeter era," NCAR scientists wrote in their study.

To get their results, Nerem and his colleagues ran 40 theoretical climate model simulations on possible scenarios for sea level rise against models that incorporated aerosols from volcanic eruptions. Scientists say these have a cooling effect on the planet.

Volcanic aerosols slowed human-induced warming, therefore slowing sea level rise that would have accelerated otherwise, according to the NCAR study. The study was funded by the National Science Foundation.

For years, scientists have been trying to figure out why sea level rise has not increased in line with climate model projections. The NCAR study notes sea level rise decreased from 3.5 millimeters per year during the 1990s to 2.7 millimeters per year in the 2000s — though there's lots of uncertainty in these measurements.

Full story

7) BBC Let Emma Thompson Get Away With 'Inaccurate' Climate Change Claims, Watchdog Finds
The Daily Telegraph, 11 August 2016
Hannah Furness

The BBC must not let on-air guests bamboozle viewers with inaccurate statistics, its watchdog has warned, as it finds Emma Thompson was allowed to spout climate change inaccuracies without challenge.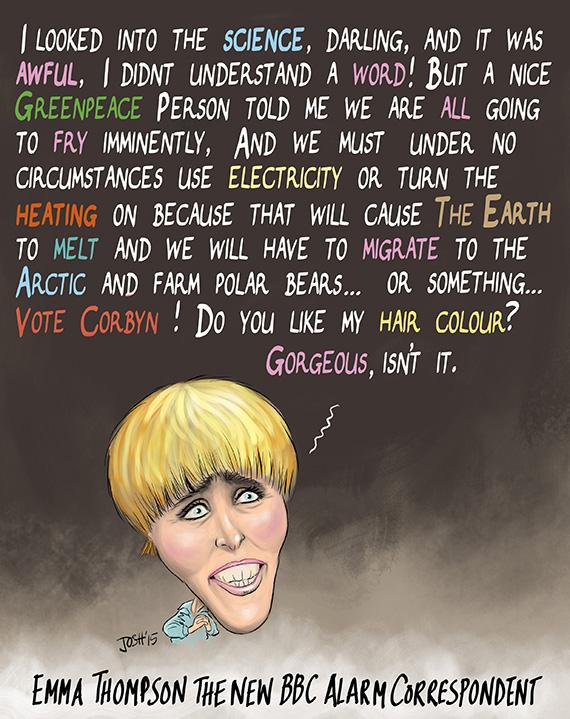 The BBC Trust found the Oscar-winning actress was permitted to make "inaccurate statements" about temperature rises during a Newsnight appearance, without being properly interrogated.

A report into the BBC's impartiality found presenters and journalists must do more to challenge statistics and statements by celebrities, politicians and spokesmen who appear on its shows.

The independent paper said it found "many examples where statistics were used erroneously or in misleading ways by guests on programmes and were not challenged by presenters".

Audiences, it said, endured "considerable frustration" when statistical claims are pitched against one another in a 'he said, she said' format "without presenters giving guidance on which was more accurate.

Noting that nearly three quarters of statistics from political figures come from the Conservative government, it added: "It does make it vital that those statements are challenged where necessary so that the impartiality of the BBC's coverage of political affairs is not affected."

The report, led by statistician Dame Jil Matheson, said: "More should be done to ensure that all BBC presenters are able to confidently challenge misleading/ inaccurate statistical claims made by interviewees."

She added: "Whether it's a celebrity or a minister or a spokesperson from a charity, then the same recommendation, the same comment, the same questions of what's beyond the numbers should apply."

Among the examples it singled out was an episode of Newsnight in September 2015, in which Emma Thompson was invited to speak about her climate change campaigning.

In an interview with Emily Maitlis, she said: "If they [oil companies] take out of the earth all the oil they want to take out, you look at the science. Our temperature will rise four degrees Celsius by 2030, and that's not sustainable."

The Trust noted scientific research had showed that temperature rise is more likely to occur over a longer period of time, "by the end of the century" according to the World Bank (sic), but was "not challenged in any way by the presenter or programme".

Full story
The

London-based

Global Warming Policy Forum

is a world leading think tank on global warming policy issues.

The GWPF

newsletter is prepared by Director Dr Benny Peiser - for more information, please visit the website at

www.thegwpf.com.