Anti-Nuclear, Anti-Coal, Anti-Shale, i.e. Dependent On Russian Gas
1) EU Divided Over Russian Gas Dependence & Sanctions
Stratfor, 25 July 2017
While the European Commission said it was ready to take the issue to the World Trade Organization, or even consider the introduction of countersanctions, the bloc remains divided on it's Russian gas dependency.
Gazprom CEO Alexei Miller visits the Chelyabinsk pipe-rolling plant where components of the highly controversial Nord Stream 2 pipeline are being made (source: dpa)
Once again, energy ties with Russia have become a source of controversy in the European Union. On July 25, representatives from member states gathered in Brussels to discuss their joint energy strategy at a meeting chaired by the Estonian government. Estonia currently holds the rotating presidency of the Council of the European Union and is interested in diversifying the union's energy sources and reducing its dependence on
Russian natural gas
.
One of the thorny dilemmas under discussion at the meeting was the future of the Nord Stream II pipeline project, which would transport additional natural gas from Russia to Germany through the Baltic Sea, bypassing Eastern Europe. The pipeline is controversial in Europe, and 13 EU members recently protested the project, arguing that it would increase European dependence on Russian natural gas. To make things more complex, the offshore section of the pipeline lies outside the jurisdiction of the union's set of energy sector rules, known as the Third Energy Package, thus putting the project in uncertain legal territory.
In June, the European Commission asked member states for authorization to negotiate the pipeline project on their behalf, and though the move is backed by countries such as Poland, Estonia and Denmark, it puts Germany in an awkward position. Despite Berlin being one of the main proponents of a hard line on Russia over the situation in Ukraine, it is also one of the main supporters of Nord Stream II. Defenders of the project argue that as long as the European energy market is well-integrated, Russia's dominance will be mitigated, because Moscow will be unable to single out individual nations as it has done in the past. And while the Nord Stream II project would transport gas to countries other than Germany, such as the Czech Republic and Slovakia, Berlin's position as the European Union's main political player means it must decide whether or not to use its influence to push ahead with the project. If it does, Germany risks alienating countries in Central and Eastern Europe and deepening
east-west frictions within the union
.
To further complicate matters, the July 25 meeting took place as the U.S. Congress prepared to approve additional sanctions against Russia, which would allow for the discretionary application of financial sanctions on any firm taking part in any Russian pipeline project. While the European Commission said on July 24 that it was ready to take the issue to the World Trade Organization, or even consider the introduction of countersanctions, the bloc remains divided on the issue.
Full post
2) Germany's Green Ener
gy Fiasco Leads To Dependence On Russian Gas
Bloomberg, 4 July 2017
Hidden by pine forests near the deserted site of what was once East Germany's biggest nuclear reactor, two shiny pipelines emerge from the Baltic Sea to mark the spot where Chancellor Angela Merkel is trying to secure the country's energy future.
Not far from the Hanseatic town of Greifswald — an area Merkel represents in parliament — the chancellor wants a $10 billion pipeline expansion built to increase the amount of Russian natural gas imported from Siberia, more than 3,000 kilometers (1,864 miles) away.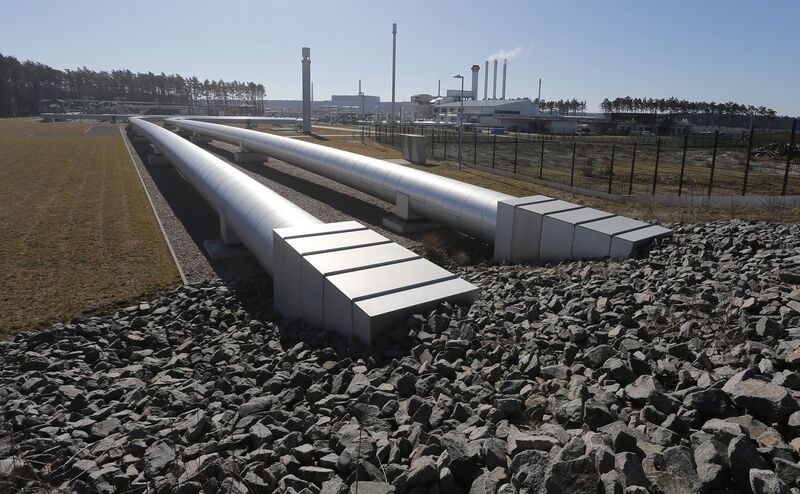 The project, led by Russia's state-run Gazprom PJSC, is intended to bolster German confidence that it has enough gas to underpin an unprecedented transition from the coal and nuclear plants, which are being closed, to a future dominated by renewable energy.
But the plan has opponents, both close to home and further afield.
People living in the sparsely populated area have filed almost 160 objections. Local approval is still pending and the site also requires removal of two shipwrecks sunk by the Swedish navy in the 18th century. European allies have also objected — worried that the project will deepen Europe's reliance on supplies from an increasingly antagonistic Russia — and U.S. lawmakers have proposed stiffer sanctions on energy companies that do business with Russia.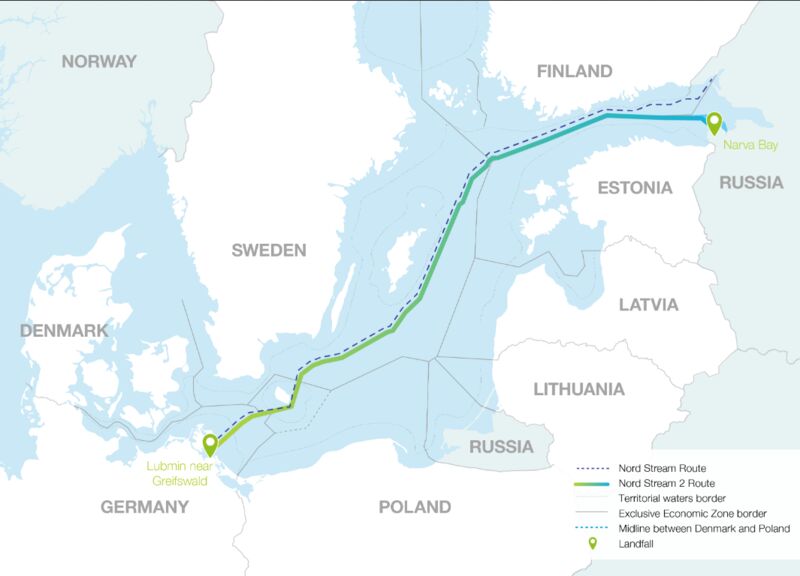 "There are not many other places apart from Russia where Germany can get a lot of gas quickly," said Jonathan Stern, chairman and senior research fellow at the Natural Gas Research Programme of the Oxford Institute for Energy Studies.
Already Europe's biggest gas user, Germany gets about 40 percent of what it consumes from Russia, the world's largest exporter, according to industry consultant Wood Mackenzie Ltd. in London. That dependence is only going to increase by 2025 to more than 50 percent, especially with output from the Netherlands, Germany's western neighbor, set to drop in coming years.
The Gazprom project, known as Nord Stream 2, also will allow for deliveries elsewhere in Europe, making Germany an even more important hub for distributions across the continent. Russia already supplies more than 20 countries with gas used to run power plants, heat homes and make chemicals.
Doubling Shipments
The existing link was commissioned in 2011 and runs for 1,224 kilometers under the Baltic Sea from Vyborg, Russia, to Lubmin in Germany. It is able to carry 55 billion cubic meters of gas, or two-thirds of German gas demand, and the expansion will double that.
"Nord Stream 2 isn't only about meeting additional demand, it's also about adjusting gas supplies towards the most cost-efficient routes," Gergely Molnar, an analyst at Wood Mackenzie in London, said by phone.
Transporting gas through Nord Stream to Germany is about 40 percent cheaper than through land-based pipes via Ukraine, according to Molnar. Russian gas at the German border cost $5.07 a million British thermal units in May, up 28 percent from a 12-year low in September but 45 percent below its 10-year average, according to International Monetary Fund data.
Germany, the U.K., France, Belgium and the Netherlands will likely benefit from lower prices, according to Brussels-based think tank Bruegel. Gazprom would also avoid transit fees paid to use pipelines in Ukraine and Poland, Bruegel said. The company plans to reduce flows via Ukraine after 2019.
Germany's approval procedures mean that infrastructure projects can be delayed by local opposition. A hearing is scheduled to start July 17 in Stralsund, Germany, according to the Ministry of Energy and Infrastructure in the state of Mecklenburg-Vorpommern.
Meanwhile, time is running out for Merkel to help Germany meet its 2020 climate goals. Despite the transition known as the Energiewende, the country is at risk of missing its target to reduce carbon emissions by 40 percent from 1990 levels.
After federal elections in September, the new government may have to present proposals for closing down power plants that run on coal, which still provides about 40 percent of the nation's electricity generation. Merkel's ruling Christian Democratic Union foresees a "mid- to long-term" exit from lignite and coal, according to their 76-page manifesto published Monday.
Nuclear Exit
Gas may provide a fifth of Germany's power in five years, almost double current levels, according to HSBC Holdings Ltd.
Germany's journey toward a renewable energy system began almost two decades ago. The policy shift intensified after Japan's Fukushima nuclear disaster in 2011, which led to Merkel's decision to exit atomic energy by 2022.
"In the long term, Europe needs new volumes of imported gas from reliable suppliers, and the Nord Stream project will become that lifebuoy," Gazprom Deputy Chief Executive Officer Alexander Medvedev said in Berlin on June 15….
"We need gas supplies when coal isn't used anymore," said Klaus-Peter Trapp, a 57 year-old cabinet maker from Greifswald. "This can have consequences if Russia and Germany don't get along well anymore."
Full story
3) Geopolitical Shale Revolution: World Energy Now Pits Russia Versus U.S.
Kenneth Rapoza, Forbes, 29 June 2017
OPEC is no longer in control of oil prices. Russia is. And Russia no longer is the dominant force of natural gas. The United States is. The battle for markets of cleaner and apparently abundant natural gas isn't Iran versus Saudi Arabia; it's the United States versus Russia.
Leonid Mikhelson, Russia's richest man and chairman of privately held Arctic natural gas giant Novatek, wants his company alone to be a bigger LNG exporter than all of Qatar. That would lock Europe in Russia's pocket, much to the chagrin of Washington and U.S. LNG exporters. (Photographer: Simon Dawson/Bloomberg)

According to the International Energy Agency, the top 10 natural gas producers are dominated by the us and...them -- the hacking, colluding, democracy manipulating, evil doers known as the Russians. The U.S. has about 20% of the world's production of natural gas, and Russia has about 19.5%. In a distant third sits Iran at 5.7%. Iran around 60% less than the Russians and American shale gas producers. Qatar is in fourth place with 4.6% of the market.
The Saudi's and Americans are now angry with the Qataris. The Qataris support a group of Muslim jihadis that the Saudis do not. Their jihadis are better than Qatari jihadis. Qatari jihadis are basically Iranian jihadis. They are aligned. The Saudis and Americans have splintered from the Qataris, opening the door for the Russians.
Russian gas producer Novatek, owned by FORBES billionaire and Russia's richest man Leonid Mikhelson, is gunning for Qatar. Mikhelson said a recent London energy conference that their liquefied natural gas projects in Russia will put them over the edge to surpass Qatar as the world's biggest exporter of LNG.
Novatek is expected to start exporting LNG from its Yamal project in the Arctic circle later, the company's chief financial officer, Mark Gyetvay, told Reuters. This will be Russia's third large-scale LNG project, led by Novatek's Arctic LNG 2, that would transform the company, and turn Russia into the world's leader in LNG exports to Europe. This is a market the U.S. is banking on. Companies have spent hundreds of millions on new LNG export terminals in the Gulf of Mexico and off the coast of Maryland.

Europe is prime real estate for American gas. Washington allowed for exporting of natural gas about two years ago. And the U.S. Senate wants to up the ante now on the Russia sanctions regime by making the sanctions extra-territorial. That means companies doing business with Russian gas pipelines and shale gas producers anywhere in the world face the threat of sanctions if a single dollar bill flows through the American banking system.
Russia and the U.S. are not just in a cyber war, or a war of words...they are in an energy battle that has OPEC on the sidelines, longing for the days when it controlled the price and flow of the world's hydrocarbons.
"We have huge ambitions to be just as large as Qatar is as one country, but as one company," Gyetvay said in London on the sidelines of an energy forum.
Qatar is the largest exporter of LNG today, selling 77.2 million tons annually and accounting for just under 30% of market share in 2016, according to energy research group IHS and the International Gas Union. Russia was seventh with exports of 10.8 million tons and a 4% market share of LNG exports. The Yamal project will export an additional 16.5 million tons, which would put Russia in third place just below Australia.
LNG is the only way the U.S. can compete with Russia abroad in the energy space. Russia already is the dominant foreign power in the European Union's natural gas market because of Gazprom's extensive pipeline system. The U.S. can't build pipelines to Europe. It has to rely on countries having LNG terminals.
For now, the U.S. has about 70 million tons of annual LNG capacity, according to Meg Gentle, CEO of LNG exporter Tellurian. Australia has around 85 million and Qatar has 82 million tons of LNG capacity. The world will need another 20 million tons of new LNG installed capacity over the next five years. And the U.S. thinks it can nudge Russia on this one. That's their competitor here. Much more so than the Australians and even the Qataris, a country Washington seems willing to kick to the curb in favor of the Saudis.
"The U.S. will be the cheapest source of new LNG, so we believe a lot of that (capacity) will come from the U.S.,"
Gentle told Bloomberg in March.
If so, she thinks the U.S. beats the Russians in Europe.
The Asia Vision LNG carrier ship docked at the Cheniere Energy LNG terminal in Sabine Pass, Texas. Cheniere is a pioneer in LNG exports. (Photographer: Lindsey Janies/Bloomberg)
U.S. Energy Export Boom
This week, the Trump administration touted the growing
"dominance"
of energy exports, with LNG at the forefront. Dominance is the key word here. Energy chief Rick Perry also discussed nuclear power. The Eurasian landmass, led by China, is building up new reactors. China has their own technology now. Russians have been experts at this for decades. The Russians are building nuclear power plants all over the place, from Egypt to India. While the U.S. firms, namely Westinghouse,
are filing for bankruptcy protection
.
With nuclear power basically on hold in the United States, LNG is the key to challenging the Russian market abroad. And Perry knows it. He said LNG will play a big role in Washington's foreign energy policy.
Over the last 10 years, the U.S. has gone from being one of the largest importers of natural gas globally to now potentially being one of the top exporters of natural gas by 2020, based on Barclays Capital's assessment in a report dated June 27.
Gas exports are good news for the U.S.
Changing natural gas dynamics here, including increased production of shale gas and the substantial build-out of export infrastructure, is leading to a dramatic reversal of the trade deficit in natural gas from about $32 billion in 2005 to less than $2 billion last year. The natural gas deficit now accounts for about only 0.2% of the total U.S. trade deficit in goods, compared with 3.5% in 2008.
LNG exports mean more money flowing into the U.S., cutting into the trade deficit. As it stands now, current estimates point to the value of natural gas exports reaching as high as $14 billion by 2020.
Washington will continue to play its energy hand as part of its foreign policy with Europe and China. But China is closer to Russia geographically and is busy sealing pipeline delivery deals for gas. The U.S. can't compete with that. The Americas market is relatively small. Cheniere's first exports last year were to Brazil. But overall, Latin America is not built up for LNG imports at the moment.
Europe, on the other hand, most definitely is. The Russians and the Americans will duke it out for years to come for the very lucrative European LNG market.
4) Why Putin Chose Trump To Get Even With Clinton
Joel Dyer, Boulder Weekly, 26 July 2017
A lesson in pipeline diplomacy
During a 2014 installment of CNN's
State of the Union
, Sen. Lindsey Graham (R-S.C.) noted, "…without American leadership organizing Europe and the world, you see people like Putin, who has an economy the size of Italy — he's playing a poker game with a pair of 2s and winning."
Graham's down-home analysis is both correct and more pertinent to today's endless Trump/Russia news cycle than has been reported.
The Russian GDP is barely half that of France these days, despite the fact the Russians produce more natural gas than anyone on Earth with the exception of the U.S., while also being the third largest producer of oil.
The Russian GDP has contracted to less than one-tenth of that of the U.S. and it no longer ranks in the top 10 of global economies, according to the 2017 estimates of the International Monetary Fund.
A pair of 2s may be overstating it.
In many ways, Russia has become a failed state. An incredible 87 percent of the country's wealth is now owned by the richest 10 percent. There has been speculation of late that Russian President Vladimir Putin is now the richest man in the world, and he's not the only one of his countrymen who has prospered this century from what has become one of the world's largest kleptocracies.
What all this adds up to is that a dangerous transformation has occurred. Russia has gone from being a global superpower to a somewhat insignificant state — not counting its nuclear arsenal — with a failing economy. But somewhere during this devolution, Russia became something else: the world's most significant, dangerous, well-armed, well-funded and most profitable cartel in the world.
Wikimedia Commons/Kremlin.ru -- Donald Trump was the perfect instrument for Vladimir Putin's 2016 attack on his long-time nemesis Hillary Clinton and American democracy.
To understand the unfolding Trump/Russia scandal, we must take off our Cold War blinders and see Russia as it truly is today: a cartel of wealthy oligarchs from Russia, Azerbaijan and Turkey manipulating the world's political systems in order to maintain its cash flow, which, for the most part, stems from the sale of natural resources. Or put another way, the Trump/Russia scandal and the DNC/Clinton campaign email hacking was never about global politics. It was simply a matter of money, and more specifically, the money Putin and his fellow kleptocrats derive from the export of their respective countries' oil and natural gas.
Putin's cash cow
Fulfilling Europe's energy needs is Putin's primary source of income, both personally and for the nation he oversees.
Russia is the largest supplier of oil and natural gas to Europe. It accounts for 32 percent of Europe's oil supply and nearly 40 percent of its natural gas. As of 2016, Europe imports 88 percent of the oil and gas it uses.
Because of Europe's heavy dependence on Putin's Russian cartel for its oil and gas needs, it is impossible to overstate the importance of the pipelines that carry Russia's fossil fuels to Europe. There are many oil and gas producers in the world, including the United States and countries in the Middle East, that badly want to tap into the lucrative European market. But to do so at this time, these countries would have to rely on shipping as the principle means of delivering their liquid gold to the EU markets, whether it's oil or liquefied natural gas, and both require the use of massive and expensive tankers.
Because this form of transport is considerably more expensive than delivery by pipeline, and the process of liquifying natural gas also adds expense to the process, Russia has a decided advantage when it comes to pricing its hydrocarbons.
So long as pipelines connect Russia's oil and gas to Europe, it is unlikely that the governments of Europe will be tempted to purchase their fossil fuels elsewhere in any significant quantity. The additional cost would find its way into nearly every aspect of the European economy from food production to transportation to manufacturing and would likely be devastating to the already fragile EU economy.
But while the pipelines are Russia's competitive strength, they are also its point of vulnerability.
Just ask Hillary Clinton. [….]
Cut off the head
Remember all the election controversy around Hillary Clinton's paid speeches to Goldman Sachs and other Wall Street banks and her refusal to release the transcripts of those speeches? Well, WikiLeaks eventually released some of them for her and lo and behold if Russia and its natural gas exports weren't right at the heart of Clinton's message.
One transcript from a speech in July of 2014 reads, "We are now energy independent, something we have hoped for and worked for over many, many years. That gives us tools we didn't have before. And it also gives us the opportunity not only to invest those resources in more manufacturing and other activities that benefit us directly here at home, but to be a bulwark with our supplies against the kind of intimidation we see going on from Russia."
Newsweek
summed up the content of Clinton's paid speeches, several of which dealt with Russia and its energy exports, as being "the equivalent of a Molotov cocktail directed 'right at the source of Russia's wealth.'"
Clinton wanted to use U.S. oil and gas exports to weaken Russia's grip over Europe, but she knew that the United States' ability to export that much oil and gas was years away and that it would be difficult for its oil and liquefied natural gas to compete with Russia's low price point due to its pipeline advantage over our tankers. So she used her position as secretary of state to launch other, broader attacks on Putin's energy cartel.
The September 2014 issue of
Mother Jones
reported that Clinton had spent a significant amount of time during her tenure as secretary of state opening up shale oil and gas plays all around the world for U.S. oil and gas companies. She encouraged countries all over the world to quickly begin fracking their own shale resources.
Environmentalists were obviously concerned with this use of the State Department, which eventually created a 63-employee division to encourage the fracking of tight shale around the world. But Clinton was doing more than just the bidding of the major oil and gas corporations that had always supported her and her husband's political ambitions. Right or wrong — and the newer science would lean toward the latter — Clinton saw natural gas as a clean energy fuel that would aid in the fight against global warming. But more importantly to the current political crisis we are facing, she also saw it as a tool to destroy Putin's cartel and weaken his authoritarian grip on Russia. In her mind it was a win-win that would write the next chapter of global history with her as the principal author.
"This is a moment of profound change," she said during an oft-quoted speech before a crowd at Georgetown University in 2012. "Countries that used to depend on others for their energy are now producers. How will this shape world events? Who will benefit, and who will not? … The answers to these questions are being written right now, and we intend to play a major role."
Full story
5) Europe Needn't Worry That Proposed American Sanctions On Russia Will Hit Its Gas Supply
Agnia Grigas, Scroll India, 21 July 2017
Energy markets have undergone significant transformation in favour of importers, and Russia's tough talk against sanctions is little more than posturing