President Trump Looks To Speed Up Radical Changes With Executive Orders
1) Trump Era Begins With Pledge To Eliminate Obama's Climate Action Plan
USA Today, 20 January 2017
David Jackson and Gregory Korte

WASHINGTON — As President Trump delivered his inaugural address Friday, his staff posted a variety of proposals ranging from an "American First Foreign Policy" to killing President Obama's climate action plan — plans largely echoing his campaign website.

President Trump wants to get rid of 'harmful and unnecessary policies such as the Climate Action Plan' REUTERS/Jonathan Ernst

"For too long, we've been held back by burdensome regulations on our energy industry. President Trump is committed to eliminating harmful and unnecessary policies such as the Climate Action Plan and the Waters of the U.S. rule," reads the top issue brief on the new president's White House website. "New executive actions are expected later Friday as the nation's 45th president begins his administration."

After the inauguration ceremony, Trump went inside the U.S. Capitol, chatted with lawmakers and signed documents that included formal nominations of Cabinet members and a waiver that allows recently retired Gen. James Mattis to become secretary of Defense. The new president also signed a proclamation declaring a "national day of patriotism," said spokesman Sean Spicer.

Shortly after Trump took the oath of office, the government switched over the White House website from Obama's to Trump's. (Obama's is now frozen in time, archived by the National Archives and Records Administration under the Presidential Records Act.)

Trump also resumed tweeting within an hour of his swearing-in.

"We will bring back our jobs," he said during a post-inaugural tweetstorm. "We will bring back our borders. We will bring back our wealth — and we will bring back our dreams!"

Full post

2) Trump Team Prepares List of Early Climate And Energy Policy Changes, Sources Say
Bloomberg, 20 January 2017
Jennifer A Dlouhy

Donald Trump's advisers have prepared a short list of energy and environmental policy changes he can take now that he has been sworn in as president, including steps to limit the role that climate change plays in government decisions and speed the review of cross-border pipelines.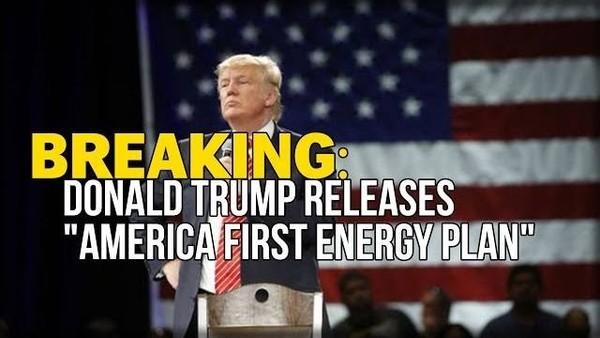 The list of actions Trump can take imminently includes nullifying former President Barack Obama's guidelines that federal agencies weigh climate change when approving pipelines, deciding what areas to open for drilling or taking other major actions, two people familiar with Trump's transition planning say.

Soon after Trump took the oath of office, an "America First Energy Plan" posted on the White House website that enshrined many of his campaign pledges as formal policy goals, including a commitment to eliminate "harmful and unnecessary" regulations that throttle domestic development. Explicit targets for repeal include Obama's Climate Action Plan, which limits carbon emissions from power plants, and a water pollution rule.

"For too long, we've been held back by burdensome regulations on our energy industry," Trump's plan says, describing domestic energy production as critical to "achieving independence from the OPEC cartel and any nations hostile to our interests."

Trump also is being counseled, according to the people familiar with the planning, to suspend the government's use of a metric known as the social cost of carbon until it can be reviewed and recalculated, and to rescind a 49-year-old executive order that put the State Department in charge of permitting border-crossing oil pipelines.

Quick Action
Conservatives have been urging Trump to act quickly.

"President Obama used a pen and phone to load up the Federal Register with harmful regulations, but Donald Trump has an eraser – and he should use it," said Andy Koenig, vice president of policy at Freedom Partners, the donor organization tied to billionaires Charles and David Koch. "While all of this won't be resolved overnight, quick action is a positive first step for the new administration to demonstrate its commitment to addressing barriers to economic growth and opportunity for all Americans."

Latest Plan
Trump's latest energy plan -- a revised version of a blueprint published after his election and another touted on the campaign trail -- describes revenues from oil and gas production as a way to pay for building new roads and bridges.

In the document, Trump highlights a commitment to clean-coal technology, which promises to cut pollution tied to burning the fossil fuel, and "to reviving America;'s coal industry, which has been hurting for too long." That reprises Trump's campaign promise to bring back coal mining jobs, in decline as environmental policies and competition from cheaper, cleaner natural gas have lessened electric utilities' demand for the fossil fuel.

Environmental protections will not be abandoned in the push for greater U.S. energy development, Trump says. "Our need for energy must go hand-in-hand with responsible stewardship of the environment," the plan says. "Protecting clean air and clean water, conserving our natural habitats, and preserving our natural reserves and resources will remain a high priority."

On the campaign trail, Trump pledged to use his first day in office to roll back a suite of Obama administration actions on climate. The timeline for some of those reversals might slip, although Trump can put the changes in motion right away by directing agencies to take action.

Coal Mining
For instance, Trump is set to direct the Interior Department to lift an Obama-era moratorium on selling federal coal-mining rights. Interior Secretary Sally Jewell imposed the halt on new lease sales to allow time for a broad environmental review. That analysis is still underway and could continue even after the moratorium is lifted. But any new coal sales could be challenged in court.

Two of Trump's targets have especially symbolic significance, because the Obama administration used them to elevate the role of climate change in government actions. The social cost of carbon, a calculation reflecting the potential economic damage from climate change, serves as the linchpin for many of the Obama administration's environmental rules, from appliance efficiency requirements to limits on how much methane can leak from oil wells. Critics say the number -- now nearly $40 for every metric ton of carbon dioxide emitted into the atmosphere -- gives artificial precision to uncertain conditions nearly 300 years in the future.

Trump could use an executive order or guidance from his Office of Management and Budget to suspend the social cost of carbon, allowing time for the metric to be freshly analyzed and recalculated. Conservatives at the Competitive Enterprise Institute, American Energy Alliance and Heritage Foundation have offered blueprints for change that could serve to lower the number, including making it reflect projected climate costs solely in the U.S., rather than globally.

NEPA Analysis
Trump also can effectively nullify guidance from Obama's Council on Environmental Quality that climate change should be factored into government agencies' formal environmental reviews. The guidelines were meant to influence analysis of proposed agency actions under the National Environmental Policy Act. A new approach can be developed later.

Full story

3) Trump Looks To Speed Up Keystone XL With Executive Actions
Washington Examiner, 20 January 2017
John Siciliano

President Trump is preparing to take executive actions soon that will begin the process of unraveling former President Barack Obama's climate change legacy, while clearing the way for the approval of the Keystone XL pipeline.

Trump's White House team will begin the climate rollback by striking down a controversial climate metric called the Social Cost of Carbon, which the Obama administration used to justify the cost of its environmental regulations.

The carbon cost formula has been a big target by Republicans who have criticized it as a hidden standard that few people have access to and that appeared to be directly controlled and tweaked by the Obama White House.

Trump plans to move soon on issuing the executive order to end the carbon metric, while issuing a second order to remove regulatory roadblocks for approving trans-border pipeline projects such as the Keystone XL project to connect Canada's oil sands to U.S. refiners in the Gulf of Mexico, Bloomberg reported.

The pipeline order would remove the State Department's authority to review pipeline projects that cross U.S. borders, which appears to be an attempt to speed up project reviews and remove proceedings that could create a way for environmental groups to block the projects.

Meanwhile, environmental groups are using Trump's inauguration to drum up up funding to fight the incoming administration's actions.

Full story

4) Quick Executive Orders Trump Could Take On Energy And Climate Policy
Reuters, 20 January 2017
Valerie Volcovici
| WASHINGTON



Donald Trump - a big supporter of the U.S. oil, gas and coal industries - has promised to get to work quickly after being sworn in as president of the United States, raising expectations that he will sign a slew of

executive orders.



Here are some of the executive actions and other maneuvers that could come quickly, related to energy, the environment, and climate change:



CLEAN POWER PLAN


Trump, a Republican, has promised to kill Democratic predecessor Barack Obama's Clean Power Plan, a rule that requires states to cut carbon dioxide emissions from power plants. He has a few options to do so, some simpler than others.





The plan is being challenged by 27 of the 50 states in court, so one option is to order the Justice Department to stop defending it - effectively giving the plaintiffs a win. Trump could also seek a "voluntary remand" asking the court to send the rule back to the Environmental Protection Agency for review. The problem is that attorneys general from states like New York and California, as well as environmental groups, would likely step into the gap and defend the rule.




Another possibility would be to order the EPA not to enforce the rule. But that, too, could open the door to lawsuits.





A third option would be for Trump's administration to try to issue a new regulation "withdrawing" the Clean Power Plan, even if it is upheld in the courts, according to the American Energy Alliance, an industry group that helped advise Trump's energy transition team. That move may not be a fast one.





The Clean Power Plan, finalized in 2015, is the centerpiece of Obama's broader climate change strategy

.

KEYSTONE XL PIPELINE


Trump has promised to ask TransCanada Corp to resubmit its application to build the Keystone XL pipeline, a project to pipe more Canadian oil sands crude into the United States that was rejected by the Obama administration after years of environmental lobbying against it. While the invitation to resubmit could come fast, it is unclear whether TransCanada would seek to revive the project given that oil prices are far lower now than they were when the company initially pursued it.





Trump may also seek to issue an order to undo a guidance issued last August by the White House Council on Environmental Quality that requires federal agencies to quantify greenhouse gas emissions and factor in impacts on climate change while evaluating projects like pipelines. The council had updated the decades-old National Environmental Policy Act to include the greenhouse gas update. […]



SOCIAL COST OF CARBON


One little-known tool used by the Obama administration to support its regulations curbing carbon emissions is the "Social Cost of Carbon," a calculation made by a panel of technical experts to place a dollar value on the public harm caused by carbon dioxide emissions. The calculation is used in the rule-making cost/benefit analysis.





The current cost of carbon determined by the group is $36 per tonne, a level that will rise to $50 by 2030.





The American Energy Alliance believes that Trump could immediately order government agencies to end the use of the Social Cost of Carbon, a move that could help it unravel a number of Obama's other anti-carbon regulations.



FEDERAL COAL MORATORIUM


Trump could immediately lift the Department of Interior's moratorium on coal leasing on federal land - a move the department made last year as it sought to review the program and evaluate whether the government adequately priced the value of coal extracted from public land on behalf of the taxpayer. Lifting the moratorium would improve industry access to vast coal deposits remaining in the Powder River Basin.





Reversing some of Obama's more recent moves to put federal acreage off-limits to drilling could be more complicated. Obama designated around 1.6 million acres of federal lands in Utah and Nevada as monuments, using a tough-to-overturn law called the Antiquities Act. He also permanently protected areas of the offshore Arctic and Atlantic using another law that legal experts say would be a challenge to overturn.



PARIS CLIMATE AGREEMENT


During his campaign for the White House, Trump said he would pull the United States out of the Paris Climate Agreement within 100 days of taking office. The accord, signed by nearly 200 countries last year, is intended to curb global warming by slashing emissions of carbon dioxide and other greenhouse gases. Since his election, Trump has softened his stance slightly, telling the New York Times that he would keep an open mind about the deal. Nonetheless, the mercurial former New York businessman has been advised by his team about swift options he could take to end U.S. participation in the accord, including issuing a presidential order simply deleting the U.S. signature from the Paris accord



Full post
5) An America First Energy Plan
The White House — President Donald J Trump
Energy is an essential part of American life and a staple of the world economy. The Trump Administration is committed to energy policies that lower costs for hardworking Americans and maximize the use of American resources, freeing us from dependence on foreign oil.
For too long, we've been held back by burdensome regulations on our energy industry. President Trump is committed to eliminating harmful and unnecessary policies such as the Climate Action Plan and the Waters of the U.S. rule. Lifting these restrictions will greatly help American workers, increasing wages by more than $30 billion over the next 7 years.
Sound energy policy begins with the recognition that we have vast untapped domestic energy reserves right here in America. The Trump Administration will embrace the shale oil and gas revolution to bring jobs and prosperity to millions of Americans. We must take advantage of the estimated $50 trillion in untapped shale, oil, and natural gas reserves, especially those on federal lands that the American people own. We will use the revenues from energy production to rebuild our roads, schools, bridges and public infrastructure. Less expensive energy will be a big boost to American agriculture, as well.
The Trump Administration is also committed to clean coal technology, and to reviving America's coal industry, which has been hurting for too long.
In addition to being good for our economy, boosting domestic energy production is in America's national security interest. President Trump is committed to achieving energy independence from the OPEC cartel and any nations hostile to our interests. At the same time, we will work with our Gulf allies to develop a positive energy relationship as part of our anti-terrorism strategy.
Lastly, our need for energy must go hand-in-hand with responsible stewardship of the environment. Protecting clean air and clean water, conserving our natural habitats, and preserving our natural reserves and resources will remain a high priority. President Trump will refocus the EPA on its essential mission of protecting our air and water.
A brighter future depends on energy policies that stimulate our economy, ensure our security, and protect our health. Under the Trump Administration's energy policies, that future can become a reality.
The

London-based

Global Warming Policy Forum

is a world leading think tank on global warming policy issues.

The GWPF

newsletter is prepared by Director Dr Benny Peiser - for more information, please visit the website at

www.thegwpf.com.