William Happer: The Truth About Greenhouse Gases
1) Trump Meets With Princeton Physicist Who Says CO2 Is Good For Us
The Washington Post, 13 January 2017
Chris Mooney

Yes, Donald Trump met with Al Gore. But on Friday, according to the Trump transition team, the president-elect also met with William Happer, a Princeton professor of physics who has been a prominent voice in questioning whether we should be concerned about human-caused climate change.


Physicist William Happer arrives for a meeting with President-elect Donald Trump at Trump Tower in New York City on Jan. 13. (Albin Lohr-Jones/European Pressphoto Agency/Pool)

In 2015 Senate testimony, Happer argued that the "benefits that more [carbon dioxide] brings from increased agricultural yields and modest warming far outweigh any harm."

While not denying outright that increasing atmospheric carbon dioxide levels will warm the planet, he also stated that a doubling of atmospheric carbon dioxide would only cause between 0.5 and 1.5 degrees Celsius of planetary warming. The most recent assessment of the United Nations' Intergovernmental Panel on Climate Change puts the figure much higher, at between 1.5 degrees and 4.5 degrees C.

"All trees, and many other plants, wheat, rice, soybeans, cotton, etc., are handicapped because, by historical standards, there currently is too little, not too much, CO2 in the atmosphere," read a slide contained in Happer's testimony.

"A dispassionate analysis of the science indicates that more CO2 will bring benefits, not harm to the world," he also said in the testimony.

Happer did not answer questions on his way into the elevator to meet with Trump, according to pool reports. He did not immediately respond to requests for comment from the Post.

E&E News, which was apparently first to report on the meeting, noted that it was "unclear" whether Happer might be under consideration for energy or science positions in the administration. There certainly remain many of those to fill. [...]

Happer is an eminent physicist [and a member of the GWPF's Academic Advisory Council] who held prominent positions at the Department of Energy, as well as at his university, and has 200 scientific publications to his name. But in 2009 testimony, he went even further in countering the scientific consensus on climate change, asserting that "the current warming also seems to be due mostly to natural causes, not to increasing levels of carbon dioxide." Most scientists have been plain and very clear that carbon dioxide is indeed the cause of most of the current warming.

In a 2011 essay in the journal First Things, Happer further argued that "the 'climate crusade' is one characterized by true believers, opportunists, cynics, money-hungry governments, manipulators of various types — even children's crusades — all based on contested science and dubious claims."

Full story

2) William Happer: The Truth About Greenhouse Gases
Global Warming Policy Foundation

"The object of the Author in the following pages has been to collect the most remarkable instances of those moral epidemics which have been excited, sometimes by one cause and sometimes by another, and to show how easily the masses have been led astray, and how imitative and gregarious men are, even in their infatuations and crimes," wrote Charles Mackay in the preface to the first edition of his Extraordinary Popular Delusions and the Madness of Crowds. I want to discuss a contemporary moral epidemic: the notion that increasing atmospheric concentrations of greenhouse gases, notably carbon dioxide, will have disastrous consequences for mankind and for the planet. This contemporary "climate crusade" has much in common with the medieval crusades Mackay describes, with true believers, opportunists, cynics, money-hungry governments, manipulators of various types, and even children's crusades.

Full paper

3) Ignoring Trump's Climate Scepticism, Davos Elite Bets On Making Money From Green Subsidies
Bloomberg News, 15 January 2017

Donald Trump has often ridiculed global warming and promised to withdraw the U.S. from the global accord signed in Paris in 2015. Yet despite the change of political weather in Washington, the captains of business and finance gathered in Davos this week will spend a lot of time talking about climate change — and how to make money from it.

The World Economic Forum is devoting 15 sessions of its 2017 annual meeting to climate change, and nine more to clean energy — the most ever on the issues.

It reflects how much is at stake. For global business leaders, it's not just a question of burnishing their green credentials, but about billions of dollars — maybe even trillions — in potential profits and losses. Insurers are starting to price-in more frequent flooding and droughts; energy giants are shaping their business for a world that's moving away from oil and coal; car makers are putting real money into electric vehicles; banks want to lend money for renewable electricity projects.

"The good thing is that the Paris agreement raised the bar for everyone," said Ben van Beurden, the head of Royal Dutch Shell Plc, Europe's largest oil group. "Everybody feels the obligation to act."

Achieving the ambitions set out in Paris may require $13.5 trillion of spending through to 2030, according International Energy Agency data that shows the scale of the opportunity for business. Only last year, clean energy investment stood at $287.5 billion, data compiled by Bloomberg New Energy Finance indicate.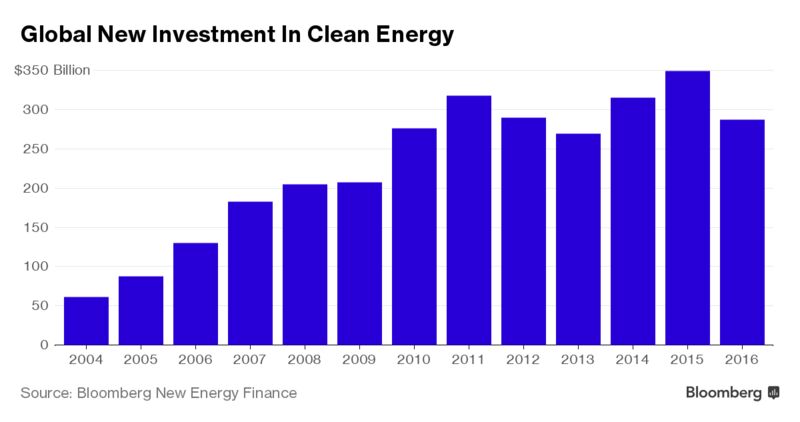 "The scale and scope of the investment flows on renewables shows it's mainstream," said David Turk, head of climate change at the IEA in Paris and a former senior U.S. climate diplomat.

Opportunities Rising
With money-making opportunities rising, traditional climate change advocates — Al Gore and Greenpeace executive director Jennifer Morgan — will mingle in panel discussions with executives such as HSBC Holdings Plc Chairman Stuart Gulliver and Patrick Yu, president of Cofco Corp., the largest food company in China. They will discuss the nexus between the fight against global warming and business — both how to stop climate change and how to profit from it.

"Climate change is material and central for many companies and their boards," said Dominic Waughray, head of public-private partnership at the World Economic Forum. "Climate change is a core part of the growth agenda."

Beyond the official program, a record 60 chief executive officers are expected to gather in a closed-door session to discuss the challenges of climate change, according to a person familiar with the event, who asked not to be named because the meeting isn't public.

Full post

4) Global Renewables Spending Falls 18% As Green Policies Suffer From Brexit-Trump Effect
The Independent, 13 January 2017
Joe Ryan

Global investments in renewable power dropped the most on record in 2016 as demand in China and Japan faltered.

Worldwide spending on clean energy fell 18 percent from 2015's record high to $287.5 billion, according to a report Thursday by Bloomberg New Energy Finance.

It was the first decline since 2013 and comes as environmental policies face pressure from populist movements that have fuelled the rise of Donald Trump, the UK Independence Party and others.

Even as spending ebbs, the amount of wind and solar energy connected to power grids around the world continues to surge, gaining 19 percent in 2016, according to New Energy Finance. That's in part because investors are getting more bang for their buck as competition and technological advances have dramatically reduced prices for photovoltaic panels and wind turbines.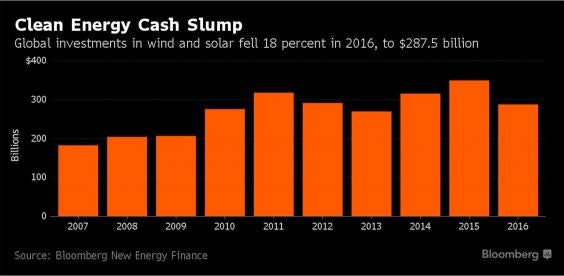 (Bloomberg)

[...] Spending in China tumbled 26 percent to $87.8 billion from an all-time high in 2015. The slump comes as China's electricity demand stagnates and the government reduces subsides for wind and solar power, lowering demand in a market accounting for about one-third of all global clean energy spending.

"China is really the driver of clean energy investment," Abraham Louw, a New Energy Finance analyst, said in an interview. Spending in Japan slumped 43 percent to $22.8 billion.

Full story

5) Green Energy Plant Blamed After 1,000 Fish Die At One Of Britain's Best-Loved Salmon And Trout Rivers
Mail on Sunday, 15 January 2017
Nic North

A supposedly 'green' power plant has been blamed for killing more than 1,000 fish on one of Britain's best-loved salmon and trout rivers.

Officials are investigating if a fault caused hundreds of thousands of gallons of toxic waste to be discharged from an anaerobic digester and into the picturesque River Teifi in West Wales, killing every single fish along an eight-mile stretch.

Two weeks ago The Mail on Sunday highlighted the growing risk to the environment posed by the 'green guzzlers', which convert slurry from dairy herds into methane.


Officials are investigating if a fault caused hundreds of thousands of gallons of toxic waste to be discharged from an anaerobic digester and into the picturesque River Teifi in West Wales, killing every single fish along an eight-mile stretch; photo South Wales Evening Post

They have been responsible for 12 serious pollution incidents since 2015, but the contamination of the River Teifi just before Christmas could be the worst yet, according to anglers and environmentalists.

Natural Resources Wales confirmed more than 1,000 fish carcasses had been counted following the spillage, and a source told The Mail on Sunday that investigators were focusing on an anaerobic digester in the area.

Local angler Steffan Jones said: 'I don't know what went wrong with the unit but clearly something did for so much effluent to have been discharged.

'This is absolutely tragic.'

The farmers who own the plant have not responded to requests for comment.

Critics of anaerobic digesters claim there is not enough slurry and waste, so thousands of tons of feed, including maize, is used to fuel the digesters as farmers chase massive Government subsidies.

Full story

see also: Monster digesters are meant to guzzle up waste and churn out eco-friendly energy… but they are fed with crops, produce pitiful levels of power, cost you £216m in subsidies and harm the environment

6) 2017 Edelman Trust Barometer Reveals Global Implosion of Trust
Edelman, 15 January 2017

The 2017 Edelman TRUST BAROMETER the largest-ever drop in trust across the institutions of government, business, media and NGOs. Trust in media (43 percent) fell precipitously and is at all-time lows in 17 countries, while trust levels in government (41 percent) dropped in 14 markets and is the least trusted institution in half of the 28 countries surveyed.

The credibility of leaders also is in peril: CEO credibility dropped 12 points globally to an all-time low of 37 percent, plummeting in every country studied, while government leaders (29 percent) remain least credible.

The Trust Barometer found that 53 percent of respondents believe the current overall system has failed them—it is unfair and offers little hope for the future—while only 15 percent believe it is working, and approximately one-third are uncertain. Even the elites have a lack of faith in the system, with 48 percent of the top quartile in income, 49 percent of the college-educated and a majority of the well-informed (51 percent) saying the system has failed.

The gap between the trust held by the informed public and that of the mass population has widened to 15 points, with the biggest disparities in the U.S. (21 points), U.K. (19 points) and France (18 points). The mass population in 20 countries distrusts their institutions, compared to only six for the informed public.

"The implications of the global trust crisis are deep and wide-ranging," said Richard Edelman, president and CEO of Edelman. "It began with the Great Recession of 2008, but like the second and third waves of a tsunami, globalization and technological change have further weakened people's trust in global institutions. The consequence is virulent populism and nationalism as the mass population has taken control away from the elites."

Current populist movements are fueled by a lack of trust in the system and economic and societal fears, including corruption (40 percent), immigration (28 percent), globalization (27 percent), eroding social values (25 percent) and the pace of innovation (22 percent). Countries coupling a lack of faith in the system with deep fears, such as the U.S., U.K. and Italy have seen the election of Donald Trump, the Brexit vote and the failed Italian referendum.

The cycle of distrust is magnified by the emergence of a media echo chamber that reinforces personal beliefs while shutting out opposing points of view. Respondents favor search engines (59 percent) over human editors (41 percent) and are nearly four times more likely to ignore information that supports a position they do not believe in.

Full post
The

London-based

Global Warming Policy Forum

is a world leading think tank on global warming policy issues.

The GWPF

newsletter is prepared by Director Dr Benny Peiser - for more information, please visit the website at

www.thegwpf.com.