US To Stop Funding UN Climate Process
1) G-20 Drop Climate Change From Communique
Reuters, 17 March 2017

Opposition from the United States, Saudi Arabia and others has forced Germany to drop a reference to financing programs to combat climate change from the draft communique at a G20 finance and central bankers meeting.

A G20 official taking part in the meeting said on Friday that efforts by the German G20 presidency to keep the wording on climate change financing had run into resistance.

"Climate change is out for the time being," said the official, who asked not to be named.

At their last meeting in July 2016 in the Chinese city of Chengdu, the G20 financial leaders said they encouraged all signatories of the Paris Agreement on climate change to bring the deal into force as soon as possible.

But U.S. President Donald Trump, who took office in November, has called global warming a "hoax" concocted by China to hurt U.S. industry and vowed to unpick the Paris climate accord that is supposed to curb rising temperatures.

Under the Chinese G20 presidency, finance ministers last year called on all governments to implement financial commitments made under the Paris deal in a "timely" way and promised to continue working on climate finance in 2017.

Trump's administration on Thursday proposed a 31 percent cut to the Environmental Protection Agency's budget, as the White House seeks to eliminate climate change programs and trim initiatives to protect air and water quality.

Asked about climate change programs, Mick Mulvaney, Trump's budget director, told reporters on Thursday "we consider that to be a waste of (Americans') money."

"I think the president is fairly straightforward. We're not spending money on that," he said.

2) Trump Budget: US To Stop Funding UN Climate Process
Climate Home, 16 March 2017
Karl Mathiesen

In a budget blueprint released on Thursday morning, US president Donald Trump proposed sweeping cuts to US financial support for the global fight against climate change.

The title page called it the "America First" budget. "Our aim is to meet the simple, but crucial demand of our citizens – a Government that puts the needs of its own people first," said Trump in a foreword addressed to the US Congress.

The budget, which covers the 2018 financial year, is likely to be substantially amended as it goes through Congress.

The State Department section of the budget proposal said the Global Climate Change Initiative (GCCI) would be eliminated. According to its 2016 budget request the GCCI, which was set up by president Barack Obama, directs money to the UN Framework Convention on Climate Change (UNFCCC) and the Intergovernmental Panel on Climate Change (IPCC) – the diplomatic and scientific branches of the UN's climate process.

Through the GCCI, the State Department is a major funder of the UNFCCC, providing €6 million (US$6.44m) each year – roughly 20% of its operating budget.
An official told Climate Home the State Department had not provided any funds appropriated in the 2017 financial year to the UNFCCC or IPCC.

Full story

3) €100 Billion For Nothing: 'Green' Germany's CO2 Emissions Keep Rising
The American Interest, 17 March 2017

Germany's greenhouse gas emissions rose last year, according to a new report. CO2 levels rose by 4 million tons in 2016 (0.7 percent), which means Berlin will have to reduce those levels by 40 million tons over the next three years in order to meet the country's 2020 climate targets.
As the FT reports, the country's opposition Green party (who sponsored the study) is blaming an increase in vehicle miles traveled for the emissions increase:

A key reason for the increase was rising emissions in the transport sector, the Greens said. That was backed up by figures from the Federal Environment Agency, which showed carbon dioxide emissions from transport rose by 5.4m tonnes, or 3.4 per cent in 2016 — partly due to an increase in freight traffic, which expanded by 2.8 per cent. […]

The Greens also blamed a pick-up in oil consumption, driven by an expanding economy: German gross domestic product rose 1.9 per cent last year, its fastest pace in five years. They said higher consumption of diesel was also a factor.

Imagine that, Greens inveighing against economic progress. If you need a reminder of how politically toxic and counterproductive environmental dogma can be, look no further than this example.

Of course, there's another culprit for rising German emissions apart from an expanding economy, and it's one we're also not surprised to see the Green Party skip over. Germany's energiewende has propped up renewables at extraordinary cost to consumers, but it has also shuttered the country's nuclear reactors. That decision, made largely in response to the 2011 Fukushima disaster, doomed a fleet of zero-emissions baseload power suppliers. And, because solar panels and wind turbines can only supply power when the sun is shining and the wind is blowing, those binned reactors had to be replaced by fossil fuels.

And not just any fossil fuels: Germany has been ratcheting up its consumption of domestically produced lignite, a particularly dirty variety of coal. That's how Berlin managed to simultaneously raise its power prices while also raise its greenhouse gas emissions in the process. It's hard to argue that Germany is any better off for having implemented the energiewende.

Germany's director general of energy policy recently told the BBC that Berlin plans to use its impending G20 presidency to push for a carbon tax. The way things are going, that seems almost masochistic.

4) Global CO2 Emissions Have Stopped Rising, International Energy Agency Says
International Energy Agency, 17 March 2017

Global energy-related carbon dioxide emissions were flat for a third straight year in 2016 even as the global economy grew, according to the International Energy Agency, signaling a continuing decoupling of emissions and economic activity.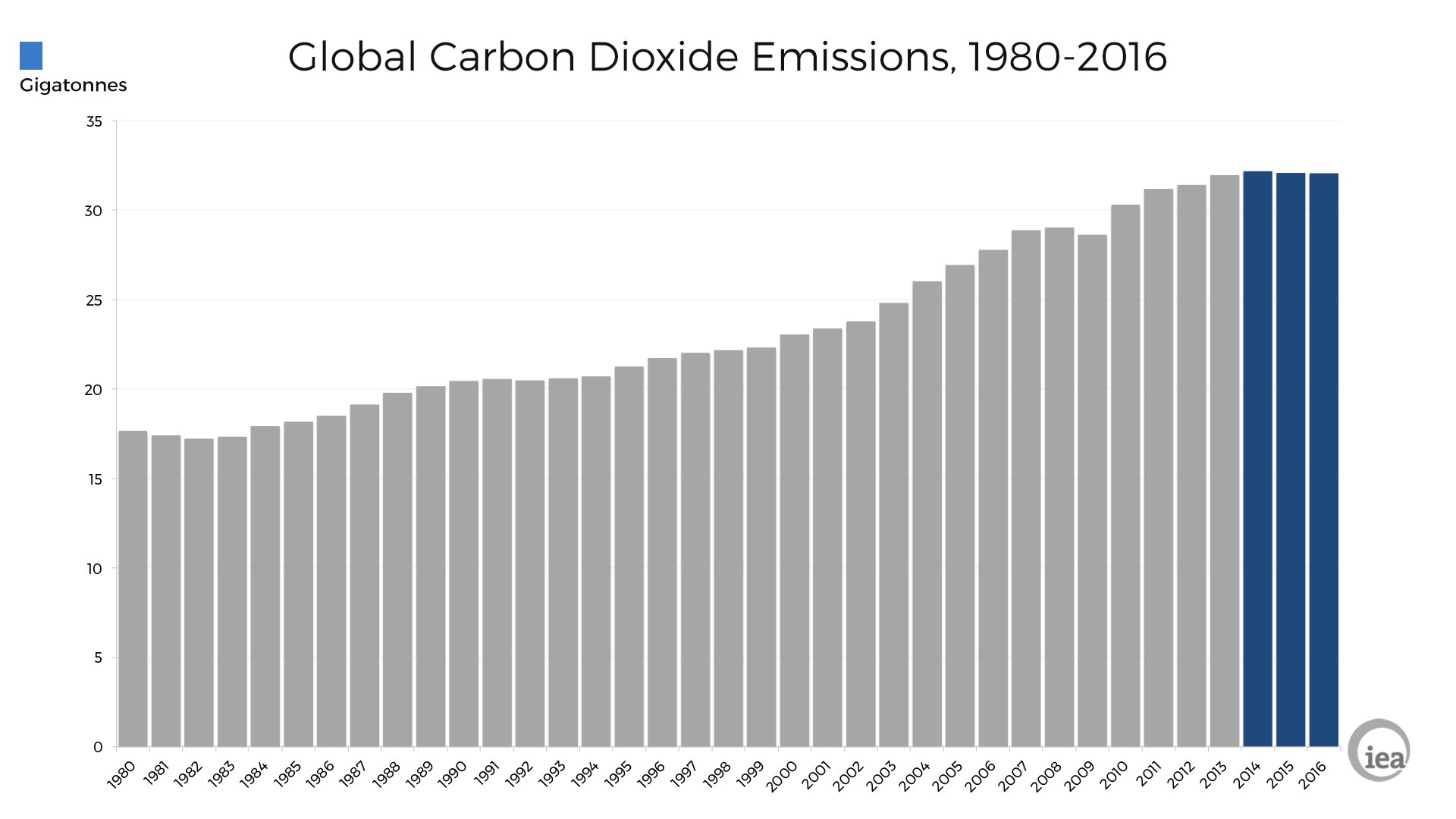 This was the result of growing renewable power generation, switches from coal to natural gas, improvements in energy efficiency, as well as structural changes in the global economy.

Global emissions from the energy sector stood at 32.1 gigatonnes last year, the same as the previous two years, while the global economy grew 3.1%, according to estimates from the IEA. Carbon dioxide emissions declined in the United States and China, the world's two-largest energy users and emitters, and were stable in Europe, offsetting increases in most of the rest of the world.

The biggest drop came from the United States, where carbon dioxide emissions fell 3%, or 160 million tonnes, while the economy grew by 1.6%. The decline was driven by a surge in shale gas supplies and more attractive renewable power that displaced coal. Emissions in the United States last year were at their lowest level since 1992, a period during which the economy grew by 80%.

"These three years of flat emissions in a growing global economy signal an emerging trend and that is certainly a cause for optimism, even if it is too soon to say that global emissions have definitely peaked," said Dr Fatih Birol, the IEA's executive director. "They are also a sign that market dynamics and technological improvements matter. This is especially true in the United States, where abundant shale gas supplies have become a cheap power source."

Full story

5) Green Energy Costs To Double, Committee On Climate Change Reveals
Global Warming Policy Forum, 17 March
Harry Wilkinson

The latest assessment of green energy costs by the Committee on Climate Change (CCC), was reported yesterday by the BBC couched in doublethink worthy of 1984.
They announced, just as five of the big six energy providers raised prices by between 7-10%, that 'Britain's low carbon energy revolution is actually saving money for households'. Nothing could be further from the truth. Tucked away at the bottom of a technical annex was a shocking revelation; households would be paying almost twice as much for climate policies than the CCC had estimated in their previous report on energy bills.

The Annex of the report includes an estimate of £235 for the cost of low-carbon policies on household energy bills in 2030, a cost that the CCC claimed in 2015 would only be £125 (p. 21).

Taking business energy costs and taxpayer-funded policies into account, this implies that the overall cost of decarbonisation policies will be over £300 billion by 2030, confirming what Peter Lilley MP has estimated in his report on the cost of the Climate Change Act.

The embarrassment of the CCC was heightened by their acknowledgement that they forgot to include VAT and full evaluations of the system costs of renewables in past assessments. The CCC also were also forced to admit that the cost of the Renewables Obligation would be much higher than initially thought.

The report reveals that by 2030, low-carbon policies will account for 32% of residential electricity prices. The situation is even worse for businesses; 40% of the electricity price paid by medium-sized commercial businesses will be due to low-carbon policies, a figure that rises to 42% for large manufacturers. Even with significant compensation, low-carbon policy costs will still account for 27% of the total energy costs of energy-intensive industries in 2030.

These large and damaging costs have been covered up by an erroneous attempt to discount low-carbon policy costs with savings from reduced energy use. The reality is that without climate policies, bills would be much lower. Furthermore, as they themselves acknowledge: "it is not possible to identify how far these improvements would have occurred through technological progress in the absence of policies aiming to reduce emissions". So it is completely misleading to try and hide the costs of green policies in this way.

Nor is it morally acceptable when so many are already living in fuel poverty. According to the report over 3.7 million are currently living in fuel poverty, including 42% of households in Northern Ireland, and low-carbon polices have caused these numbers to be so high. The largest increases in expenditure on energy bills have been for those in the lowest income quintile. The government should be doing all it can to reduce energy bills, not burdening the poorest with significant policy costs, and then pretending those costs aren't real or significant.

This latest episode shows that the CCC is unfit for purpose, and is nothing more than a pressure group for the renewable energy industry. It is time the Government took immediate action to reform the selection and workings of the Committee on Climate Change, which has misled the public for long enough.
6) Less Than 20% Of U.S. Republicans Worried About Global Warming
Gallup, 17 March 2017
A landmark year in 2016 for global warming politics has further deepened the already formidable divide between Republicans and Democrats on the issue. Two-thirds (66%) of Democrats say they worry about global warming a great deal, compared with 18% of Republicans.

The 66% of Democrats worrying a great deal about the issue is the highest percentage in Gallup's annual polling on the question since at least 2000 and is nine percentage points above last year's previous high of 57%. Forty-five percent of independents now say they worry a great deal, a jump of 11 points from 2016. The rise in concern among both Democrats and independents has pushed the overall percentage of Americans saying they worry about global warming to 45% – the highest level in nearly three decades of Gallup polling. Republicans' 18% who say they worry a great deal is the same as last year's percentage and 11 points below the party's high of 29% in 2000.

The widening gap between Republicans and Democrats comes after a year that highlighted vast differences between the parties on global warming issues. In April 2016, the United States joined 195 other countries in signing the Paris Agreement on climate change — the most comprehensive international agreement to date on combatting global warming. It had been a long-standing goal of Democratic President Barack Obama, who said of the day the agreement was signed: "History may well judge it as a turning point for our planet."

But in November, only four days after the agreement went into effect, Republican Donald Trump was elected president on a campaign that included a vow to cancel U.S. involvement in the treaty.

Full post
The

London-based

Global Warming Policy Forum

is a world leading think tank on global warming policy issues.

The GWPF

newsletter is prepared by Director Dr Benny Peiser - for more information, please visit the website at

www.thegwpf.com.