EU Ratification Of Paris Agreement Depends On New Coal Power Plants
1) Brexit Britain May Delay David Cameron's Climate Plan
Bloomberg, 6 September 2016
Jessica Shankleman and Chris Martin
The U.K. government may need to delay until next year the release of a plan on how the country will meet carbon reduction targets for 2030, according to the new climate minister.
In his first public comments since his appointment last month, Minister of Climate Change Nick Hurd said Tuesday that he's reviewing the country's progress to date and he doesn't want to release a plan that won't meet the goal.
The fifth carbon-reduction plan had been expected by the end of this year, and the June vote to exit the European Union has complicated environmental policy.
The plan must balance the need to fight climate change while meeting the country's emissions targets at the lowest cost. It's expected to provide a signal to investors on how the nation will meet its environmental goals by 2030, as well as reach a long-term objective of curbing emissions 80 percent by 2050.
"I think there's some flexibility around the publication," Hurd said at a climate-change event in London. "It's more important to get this right than to rush something out that doesn't hit the target."
Full post
2) Britain On Track To Fail Meeting CO2 Targets As Minister Announces Likely Delay
Business Green, 7 September 2016
The government may delay the release of its new plan to slash UK carbon emissions until next year, Nick Hurd told business leaders last night in his first major speech since being appointed as Climate Change Minister.
Hurd said the new Department for Business, Energy, and Industrial Strategy (BEIS) was reviewing policies to meet the fourth and fifth carbon budget, which are expected to form the government's upcoming decarbonisation plan. [...]
The UK's official climate change advisers, the Committee on Climate Change, has warned the UK is currently not on track to meet the fourth and fifth carbon budgets, largely due to slower than expected progress on renewable heat, low carbon transport, and domestic energy efficiency.
Hurd was speaking at an Aldersgate Group event on Tuesday that explored the key priorities for the next international climate summit in Marrakech in November.
During his speech, Hurd reiterated the government's commitment to the Paris Agreement, but did not give a precise date for ratification and refused to commit to ratifying the agreement this year.
The Labour party has this week called for the government to ratify the agreement as soon as possible, in the wake of the US and China officially approving the international deal.
However, the UK is likely to ratify the agreement in line with the rest of the EU and as such ratification may not come before the end of the year.
Hurd insisted the government's commitment to the deal was unwavering. "Please be under no illusions: we will ratify it and we'll do it as soon as possible," he said.
The news comes after reports emerged suggesting EU ratification could be complicated by calls from Poland's environment ministry for financial guarantees for investment in coal power plants as a pre-condition for ratifying the deal.
Observers fear the move could risk delaying formal implementation of the agreement at EU level by other countries, including the UK. However, Poland's government insisted the country - which currently relies on coal for around 90 per cent of its electricity - needs to build new coal power capacity to ensure its energy security.
Full story
3) EU Ratification Of Paris Agreement Depends On New Coal Power Plants
Platts, 6 September 2016
Adam Easton
Poland is ready to support the EU's ratification of the Paris and Doha climate agreements if Brussels is willing to back new coal plant construction by issuing free CO2 emission allowances, the Prime Minister's Office said late Monday.

"The Ministry of Environment is starting the procedure of ratifying the international climate change agreements: the Paris Agreement and the Doha Amendment. Ratification will be possible on condition that Poland's interests in the field of European climate policy are secured," the Prime Minister's Office said in a statement.

The government said Poland supports the quick ratification of the Paris Agreement but the country "faces the need to build new power units" and that indigenous coal remains the basis for Polish energy security. The PM's Office said new coal plant would not be profitable if CO2 emission allowance (EUAs) prices rose in future.

"The construction of new coal-fired power units requires investment profitability guarantees, which are influenced by the need to acquire CO2 emission allowances — probably at high prices," the statement said. "That's why the basis of Polish policy is guaranteed free allowances for Polish energy companies," the statement added.

Polish utilities are currently building or tendering for 5.8 GW of new, mostly hard coal or lignite-fired generation capacity. Despite this, Polish generators will not be able to meet peak power demand by the beginning of the next decade and Poland will need to increase electricity imports and reduce demand, the transmission system operator PSE said in a May report.



Full post



4) Reminder: Brexit Would Mean Rewriting Of Paris Climate Agreement, UN Boss Warns


EurActiv, 22 June 2016


James Crisp

A vote for Brexit in tomorrow's UK referendum on EU membership (23 June) would mean that the COP21 agreement would have to be rewritten, the executive secretary of the UN Framework Convention on Climate Change said today (22 June) in Brussels.

Christiana Figueres, one of the architects of the historic deal struck last December to limit warming to no more than two degrees above pre-industrial levels, said the international pact, "would require recalibration". It is currently in the process of ratification.

"From the point of view of the Paris Agreement, the UK is part of the EU and has put in its effort as part of the EU so anything that would change that would require a recalibration," she said at a press conference.

Full story

5) US Republicans: Paris Agreement Will Fail, One Way Or Another


E&E News, 6 September 2016


Jean Chemnick, E&E reporter

President Obama's announcement Saturday that the United States and China had joined last year's landmark Paris climate agreement together elicited tepid response from Republicans in Congress who insist the administration has shirked its obligation to submit the deal to the Senate.

Instead of threatening to take down the deal through legislation or litigation, Republicans released a few muted statements arguing that the global agreement would falter on its own.

"History already shows that this Paris Agreement will fail," said Senate Environment and Public Works Chairman Jim Inhofe (R-Okla.). "This latest announcement is the president attempting to once again give the international community the appearance that he can go around Congress in order to achieve his unpopular and widely rejected climate agenda for his legacy."

Inhofe, who has called climate change a hoax, noted that the Supreme Court has stayed U.S. EPA's flagship carbon rule for power plants. If the rule, known as the Clean Power Plan, does not survive court challenges, it could make the United States' commitment under Paris harder to reach.

"Furthermore, environmental groups and industry agree that the U.S. commitments made under the Paris Agreement cannot be met with regulations and would require legislation from Congress that will never pass," Inhofe said.

Sen. John Barrasso (R-Wyo.), who has led the charge to make Senate approval of Paris a condition of Obama's request for climate aid, said the president's move would weaken the U.S. economy.

"This questionable unilateral action by the president can and should be struck down as soon as possible," he said….

Republicans say the agreement gives advantages to major developing countries like China because developed countries by and large have agreed to make deeper cuts.
But it is unclear what tools Republican lawmakers plan to use to combat Paris, or whether they'll even try.

"I don't think anyone's going to talk about it until they decide to do it, and that will be after the election," said Myron Ebell of the Competitive Enterprise Institute.

Election will clarify future of agreement

One option would be to use Congress' power of the purse to limit spending on Obama's international climate agenda.

The House has attached language to State Department spending legislation for fiscal 2017 that would bar the United States from contributing to the United Nations' Green Climate Fund for developing countries. It would also block funding for the U.N. Framework Convention on Climate Change and Paris implementation. But the Senate version approves that funding, raising doubts about the House's path.

Ebell argues that this year's presidential election will go a long way toward determining whether Congress has the leverage to prohibit that funding during a postelection spending showdown. If Democrat Hillary Clinton wins the presidential election, Obama would likely threaten to veto any spending bill that barred Green Climate Fund contributions, he said. A Republican-led Congress would have a stronger hand if GOP nominee Donald Trump was preparing to take office.

Ebell has urged the Senate to debate the merits of Paris and kill it, if only symbolically, whether the administration submits it or not. He notes that the deal is accepted as a treaty by other countries and by the United Nations itself. By refusing to ask for the Senate's advice and consent, Obama is ignoring the constitutionally mandated division of responsibility between the executive and legislative branches of government, Ebell argued.

"It's merely a matter of tradition that the Senate doesn't take up a treaty until the president submits it," he said. Senate rejection of Paris would send a signal to other countries not to trust Obama's promises, he added.

Paul Bodnar, a former senior director for energy and climate change at the White House's National Security Council, said it might not be legally possible for the Senate to vote Paris down in the way Ebell suggests after the United States has formally joined it. A nonbinding resolution may be the only option.

Scott Segal of Bracewell LLP said that undoing Paris would effectively require a Trump victory. But congressional Republicans would seek to build as strong a record as possible on the subject "so that when action is forced, they have all the playing pieces they would need."

Congress could potentially sue the executive branch under Obama or Clinton if it uses the Paris Agreement as a predicate for regulation if the Senate doesn't ratify it, he said. But that is unlikely.

"Any future EPA is not likely to cite Paris as a particular grant of authority just for that reason," Segal said.



Full post (subscription required)



6) Christopher Booker: Rising CO2 Emissions Show Paris Climate Agreement Is An Act Of Delusion


The Sunday Telegraph, 4 September 2016



It is hard to recall any event in history that has been more absurdly and comprehensively misrepresented by politicians and the media.

Naturally the BBC and others have been quick to trumpet the news that China and the US yesterday agreed to ratify last December's Paris agreement on climate change. This "historic landmark", it is being claimed, will be a major step towards saving the planet, by slashing the world's emissions of carbon dioxide, thus supposedly preventing global temperatures from rising more than two degrees C above their pre-industrial levels.

But like everything else we have been told about that Paris agreement, it is all smoke and mirrors. We would never guess from all the hype, for instance, that China – already the world's largest CO2 emitter, contributing 28 per cent to the world's total – has no intention of halting the rise in its "carbon emissions" at all. On the contrary, while saying it will cut emissions per unit of GDP, it projects that its economic growth will result in a CO2 rise of 50 per cent by 2030. This alone would add up to 30 per cent of the world's total.

As for President Obama, despite his wish to make "the fight against climate change" a centrepiece of his "legacy", he has no power to ratify any international agreement. This could only be done with the agreement of two-thirds of the US Senate, which it is unlikely to give.

Another empty claim constantly made about the Paris agreement is that it was "legally binding". Even if the agreement is eventually "ratified" by 55 countries representing 55 per cent of global emissions, as is required for it to take effect, this applies to only one part of what they signed up to in December. And this is merely that every signatory country should come up with a "nationally determined contribution" (NDC), giving its own version of just how much CO2 it expects to be emitting by 2030.

In fact, it is from these NDCs that we can see just how utterly meaningless the whole exercise has turned out to be. From the documents they all submitted in Paris, it is clear that almost all the world's major emitters are planning to build enough new coal-fired power stations to ensure that their CO2 emissions will rocket. India alone, already the world's third-largest emitter, is planning to build more than 400 coal-fired plants, and anticipates that by 2030 its emissions will actually be three times greater than they are today.

It is hard to recall any event in history that has been more absurdly and comprehensively misrepresented by politicians and the media.

In reality, the Paris agreement was no more than a vainglorious act of collective wishful thinking, orchestrated to fool the world into thinking that anything of significance had actually been achieved.

For the rest of us, of course, the one huge consolation from all this is that nothing said or done in Paris will have the slightest effect on the world's climate – as eventually, to their undying shame if they live long enough, all those poor deluded politicians may come to realise.

7) The Paris Nothingburger: Much Ado About Nothing Binding


The American Interest, 6 September 2016



In working around those congressional restraints, the U.S. completely hollowed out the Paris deal, making it an entirely aspirational affair. None of the goals the Paris deal asks UN member states to set will be enforced in any real way.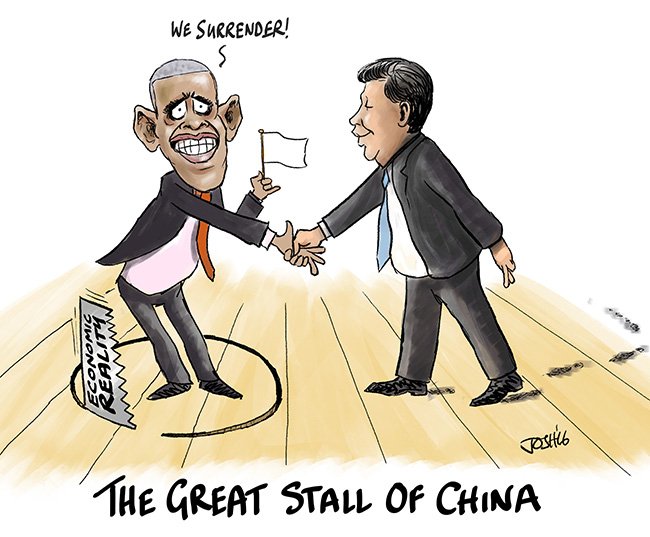 Over the holiday weekend, both the United States and China "ratified" the climate deal drawn up in Paris this past December, raising the hopes of greens the world over. But the United States Senate didn't approve the agreement with a two-thirds majority, so what kind of ratification are we talking about here?

Well, what do you do when you show up to an international climate convention knowing that your legislature won't ratify any sort of binding treaty? If you're the United States, you water the deal down by removing any hint of enforcement mechanisms to ensure you don't overstep the bounds of executive power. Lawfare Blog breaks down how nine months ago some very clever drafters went to work to get something that others would look at like a binding commitment that nevertheless passes some sort of U.S. constitutional muster:

Even the most cursory review of the text of the Paris Agreement discloses a careful, purposeful alternation between the mandatory "shall"—indicating a binding obligation governed by international law—and the hortatory "should"—non-binding statements of strictly political intent without legal force…

A close read of the Paris Agreement demonstrates that the U.S. delegation was entirely successful in navigating the line delineating the President's legitimate exercise of his existing authority. If anything, the American negotiators were excessively conservative, in insisting on hortatory language when legally binding obligations were arguably entirely appropriate. […]

An over-reliance on a non-binding approach—and its costs—are most obvious in the all-important emissions reduction (mitigation) obligations known as "nationally determined contributions (NDCs)" identified by each participating state including the United States. In its contribution—expressly not a "commitment"—the U.S. stated its intent to reduce greenhouse gas emissions by 26-28% by 2025, as compared to a baseline of 2005. Despite the willingness of other participants, most notably the 28-member European Union, to accept substantively binding obligations, the U.S. insisted on a non-binding undertaking instead of a binding commitment on this most critical of all elements in the Paris Agreement.

In working around those congressional restraints, the U.S. completely hollowed out the Paris deal, making it an entirely aspirational affair. None of the goals the Paris deal asks UN member states to set will be enforced in any real way—naming and shaming is the most coercive tool the international community has on this. And yet we see environmentalists breathlessly exhorting the actions taken by Washington and Beijing on Saturday as some sort of monumental achievement.

This is a perfect illustration of one of the green movement's core tendencies: it oscillates wildly. During the negotiation phase, it moaned about the inadequacy of the process, but after the summit it needed to show and hail progress and the inevitability of its agenda, so now it celebrates this nothingburger of a ratification as a substantive achievement.

There's something else at work here: the desperate need of the Obama Administration to keep up the facade that American foreign policy isn't a complete disaster.

Full post
The

London-based

Global Warming Policy Forum

is a world leading think tank on global warming policy issues.

The GWPF

newsletter is prepared by Director Dr Benny Peiser - for more information, please visit the website at

www.thegwpf.com.