India Plans Coal Mining Project In Africa
1) Paris Climate Deal Signed, China Starts Raising Coal Production
Reuters, 23 September 2016

Major Chinese coal producers have started raising production, the China Securities Journal reported on Wednesday (21/09), potentially unleashing 11 million tonnes of new supply each month onto the market and derailing the meteoric rally in Asian prices.

The move followed a meeting earlier this month to draw up a draft proposal that would allow miner to raise daily output by 500,000 tonnes if prices hit 500 yuan ($74.94) per tonne for two weeks.

China's coal production this year may drop to between 3.15 to 3.35 billion tonnes, down by 6 to 12 percent from a year ago, said two coal analysts, who declined to be named because they are not authorized to speak to the media.

The China steel industrial association sent a request to increase the coking coal supply to the National Development and Reform Commission (NDRC) on Sept. 4, according to a document seen by Reuters.

"Some smaller mines have furtively added production since August, the agreement is a big push. We see the (coal) shortage at 1 million tonnes a day, double the increases (set at the meeting)", said one of the coal analysts.

Major coal producers, including Shenhua Group Corp , Inner Mongolia Yitai Coal Corp and Huadian Coal Industrial Group were allowed to raise production as the latest coal price increased to 537 yuan per tonnes, up from 515 yuan two weeks ago, the Securities Journal said, citing an unnamed official.

China's biggest coal producer Shenhua Group has been given the green light to increase output by 2.79 million tonnes a month from 14 mines, said the paper.

Full story

2) India Plans Coal Mining Project In Africa
InfraCircle, 22 September 2016

As part of its energy security efforts, the Indian government is planning an ambitious coal project in Mozambique which involves mining and creating infrastructure for transportation of the fuel to India.

According to preliminary contours of the project still in the works, coal mining will be done by state-owned firms such as Coal India Ltd, with a railway network being set up to bring the coal to a greenfield port built by Jawaharlal Nehru Port Trust (JNPT). The coal may then be brought to India to fuel its electricity demands.

"This project will involve coal block development and mining. It will also involve construction of a railway network for the movement of coal to a port which will be constructed by JNPT," said a government official requesting anonymity.

Coal has an important place in India's energy mix. Of India's installed power generation capacity of 304,761 megawatt (MW), 61% or 186,293MW is fuelled by coal. Given that India wants to improve its per capita electricity consumption of 1,010 kilowatt hour and double it in the next seven years, coal will continue to play an important role in its fuel mix.

Full story

3) Philippine President Attacks EU 'Hypocrisy' Over Coal
Sun Star, 23 September 2016
Jigger J Jerusalem

PRESIDENT Rodrigo Duterte once again lashed out at the Western powers, singling out the European Union (EU) for what he calls the "hypocrisy" on the part of the highly industrialized countries in trying to regulate the use of non-renewable energy sources of developing nations like the Philippines.
President Rodrigo Duterte leads the ceremonial switch on to signal the opening of the FDC's Misamis Oriental Power Plant, Thursday, Sept. 22. (Joey P. Nacalaban)

Duterte said while the EU is hell bent on imposing the lowering of the carbon emissions, they also forget that they were the first to maximize the use of fossil fuels and the first to pollute the planet.

The President said the EU is playing double standards when it wanted to control the carbon footprint, which they themselves created the problem in the first place.

Duterte added the EU wanted the third-world nations to lower the emission of carbon in such a way that these countries could not move forward with their development agenda due to the energy protocols being set by the international environment-regulating bodies.

"Kataw-anan ning mga puti (these Caucasians are funny)," Duterte said, referring to the EU and the United States.

The use of coal in producing energy is the most viable option for the country at present, Duterte said.

"If we want to industrialize our country, because we are left behind by so many generations, we have to keep up with developments. [And the main option] right now is coal because it's cheap, it's available, although it may have impact on the planet," Duterte said during the inauguration of the FDC Misamis Power Corp. 405-megawatt coal-fired power plant in Villanueva, Misamis Oriental, Thursday afternoon, September 22.

Full story

4) Surging Price Of Coking Coal Reflects China's Muscle
Financial Times, 22 September 2016
Neil Hume

The ability of policymakers in Beijing to roil global commodity markets has been underlined by a breath-taking rally in a key steelmaking ingredient that has caught consumers cold, but promises a profit windfall for the struggling mining industry.

The price of premium hard coking coal has more than doubled in the past six weeks to more than $200 a tonne as supplies have dwindled and buyers have scrambled to find cargoes in the spot market.

Behind the surge — or "met coal mania" as it has been dubbed by one bank — are production curbs in China where the government is restricting the number of working days at domestic coal mines to 276 a year, down from 330.

This policy is mainly aimed at improving the profitability of its bloated and heavily indebted coal industry so it can repay loans to domestic banks. But it has also reduced output and tightened the global coking coal market. Its impact has been magnified by a string of disruptions in Australia, a leading supplier to the seaborne or export market.

If the price rise is sustained it could add billions of dollars to the bottom lines of the industry's biggest producers, which include Ango American, BHP Billiton, South 32 and Canada's Teck. Coking coal is an important raw material used in blast furnace steel production.

"It's been a perfect storm on the supply side," said Christopher LaFemina, analyst at Jefferies.

Full post

5) Obama's Africa Power Plan Falls Short, Leaving Continent In Dark
Bloomberg, 21 September 2016
Toluse Olorunnipa and Tope Alake

President Barack Obama's signature initiative for Africa — a $9.7 billion plan to double electricity access in the world's poorest continent — has fallen well short of its goals, so far producing less than 5 percent of the new power generation it promised.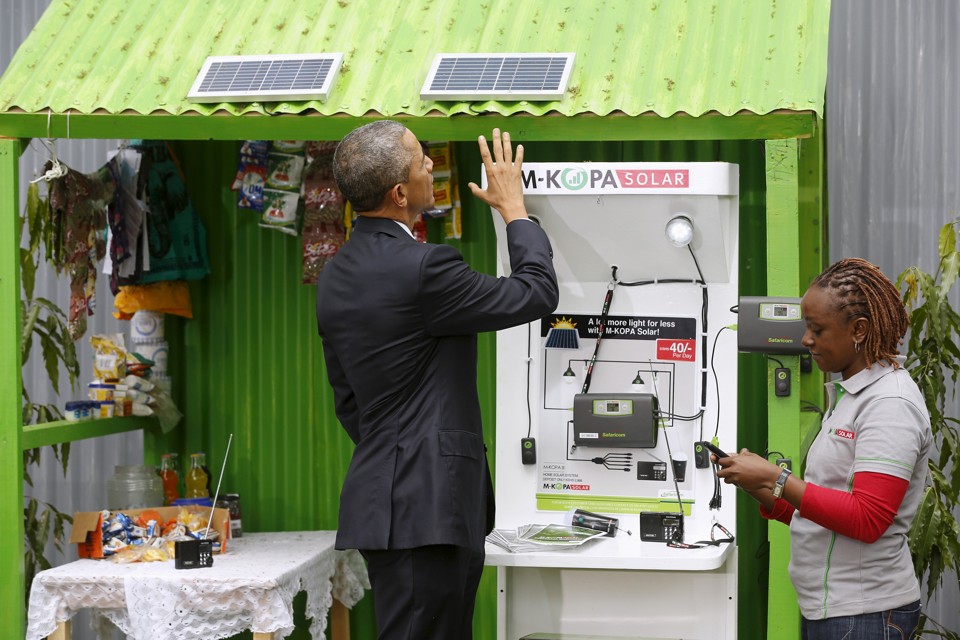 President Obama talks with a solar-power businessperson in Kenya; photo Jonathan Ernst / Reuters

Obama announced Power Africa three years ago with an ambitious goal: to add 10,000 megawatts of power and supply electricity to 20 million households within five years. As he addressed the U.S.-Africa Business Forum in New York on Wednesday, the project has yielded less than 400 megawatts of new power after running into political and economic difficulties.

"If you look today at the number of megawatts that are actually on the grid directly related to the Power Africa initiative, it is very little," John Rice, vice chairman of General Electric Co., said in May at the World Economic Forum in Kigali, Rwanda.

Power Africa, he said, "was a well-intentioned effort, with a lot of smart people, a lot of willing participants, financial institutions and yet, for some reason, it couldn't come together."

The program's shortfalls mean that when Obama leaves office, the nation's first black president and the son of a Kenyan farmer won't be able to claim a legacy-defining endeavor in Africa. By comparison, President George W. Bush's signature initiative in Africa — the President's Emergency Plan for AIDS Relief, or PEPFAR — provided drugs to fight HIV to more than 2 million people by the time he left office.

Full story

6) Non-Binding Paris Deal Worth Little More Than The Paper It's Printed On
The American Interest, 21 September 2016

Ban Ki-Moon and the rest of the national and UN delegates involved in getting the Paris deal past the "ratification" phase can pat each other on the back til their hands are sore — and we don't doubt that they will — but it won't change the fact that this "treaty" is worth little more than the paper it's printed on.

Ban Ki-Moon has apparently made it something of a personal mission to get the Paris climate agreement on the books by the time he leaves his post as the UN secretary general at the end of the year, and spent much of his time at the latest meeting of the UN General Assembly cajoling leaders into hurrying expediting their national approval process of the international deal.

It seems he was largely successful, too, if you're willing to take the 14 countries—including the UK's new Theresa May government—that pledged to "ratify" the agreement by years' end at their word. The addition of those signatories would bring the consensus up past the requirements for the deal to be enacted, both in terms of the number of countries that will have gotten on board (minimum of 55) and the percentage of global emissions they'll need to collectively represent (again, a minimum of 55). Reuters reports:

The deal, agreed by nearly 200 countries in Paris last December, needs ratification by at least 55 countries representing 55 percent of global carbon dioxide emissions to take effect. Ban said the 60 countries represented more than 47.5 percent.

The United Nations said 14 countries, representing 12.58 percent of emissions, have committed to joining the agreement in 2016, which would allow the threshold of 55 percent of global carbon dioxide emissions to be reached.

But let's not kid ourselves, making the Paris deal official won't make it "binding," as the NYT suggests, for the simple fact that there are absolutely no enforcement mechanisms that will keep countries honest to the national emissions reduction plans (called Intended Nationally Determined Contributions, or INDCs) they'll be told to submit to the UN. Naming and shaming is the best delegates were able to scrape together on that front last December, but that won't mean much when push comes to shove and countries have to make difficult decisions between disparate economic and environmental considerations.

Full post
The

London-based

Global Warming Policy Forum

is a world leading think tank on global warming policy issues.

The GWPF

newsletter is prepared by Director Dr Benny Peiser - for more information, please visit the website at

www.thegwpf.com.