Brexit: Green Campaigners Fear 'Bonfire' Of Green Regulations
1) Green Nightmare: War On Coal Can't Stop Fuel's Enduring Demand
Bloomberg, 13 October 2016
Ladka Mortkowitz Bauerova and Mathew Carr

You know the war on coal isn't working when it's up more than 50 percent this year. "The strength in coal is amazing," said Trevor Sikorski, an analyst at Energy Aspects Ltd. in London.

Prices in Europe and Asia have rebounded from a half-decade of declines after China cut domestic production so much that local consumers had to step up overseas purchases. Even as nations are shutting plants and the world's biggest wealth fund is selling out of coal companies, demand will remain little changed for decades, according to the International Energy Agency and BHP Billiton Ltd.

Analysts at Commerzbank AG and energy consultants Nena AS see prices holding at current levels at least until the end of the year as the northern hemisphere winter will boost demand and France keeps some nuclear plants offline for safety checks.
"Because of the anti-coal war, investors want to diversify away," said Guillaume Perret, director of Perret Associates in London, which provides research on the industry. "But the demand is still there."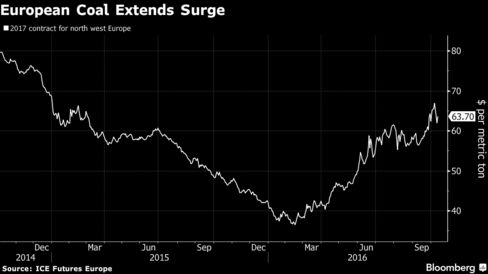 Coal's resurgence has benefited miners including Glencore Plc and Anglo American Plc, with commodities stocks up 34 percent in 2016, the best performing industry group in Europe's Stoxx 600 index. Barclays Plc moved its European mining industry view to positive last month, saying the sector could deliver gains of more than 20 percent.

Nuclear Strain
Demand for fossil fuel-fed power is expected to increase after Electricite de France SA cut output at some of its 58 French nuclear plants for extended safety checks. The outages cut EDF's available atomic power to 46 gigawatts, 16 percent below usual levels, according to Bruno Brunetti, a senior director of electricity at Pira Energy. A gigawatt is enough to power 2 million European homes.

Miner BHP predicts coal use worldwide will continue at current levels for the next two decades, while IEA analysts see demand rising 0.4 percent a year through 2040 in its base-case scenario. In Europe, coal production fell 3.4 percent last year, while use of the fuel only dropped by half that amount even with Britain taking steps to close all of its coal plants by 2025, BP Plc data show.

Coal demand remains robust because "a lot of the existing coal capacity has been added recently," said Matt Brown, an analyst at Poeyry Oyj. "We are in a business with long-lived assets."

Full story

see also Southeast Asian Nations Plan Huge Expansion Of Fossil Fuel Economy
2) Green Nightmare II: Third Runway At Heathrow 'To Get Go-Ahead In Days'
Daily Mail, 14 October 2016
James Salmon and James Slack

Heathrow is expected to be given the green light within days to build a third runway.

An artist's impression of how Heathrow Airport could look with a third runway
After years of delay, Prime Minister Theresa May is set to defy fierce opposition from key members of her Cabinet, including Foreign Secretary Boris Johnson, to boost Britain's airport capacity.
Campaigners predict an announcement about Heathrow could be made by Transport Secretary Chris Grayling in the Commons as early as Tuesday.
A decision to back Heathrow would be welcomed by business groups, which claim that expanding it will provide a much bigger boost to the economy than the alternative choice of a second runway at Gatwick.
But last night supporters of Gatwick were refusing to give up, and claimed the Government is also planning to leave the door open to expanding airport capacity there as well.
Insiders said Gatwick could be given approval within the next five years as its 30-year agreement with West Sussex local authorities not to expand is due to expire in 2019. However, senior Whitehall officials have questioned whether the finance would be available to fund two major runway projects.
It was also claimed last night that the Government plans to urge Birmingham Airport to push forward proposals for an additional runway – an option which was not even considered by the independent Airports Commission in its report, published more than a year ago, that unanimously backed a third runway at Heathrow.
Mr Johnson – who promised to lie down in front of the bulldozers if Heathrow was given the go-ahead – is said to be resigned to Mrs May pushing ahead with a third runway at the UK's biggest airport.
A Cambridge University study last week found that a third runway at Heathrow could be built without breaching pollution laws, which had been seen as a key barrier to its expansion.
Full post
3) Brexit: Green Campaigners Fear 'Bonfire' Of Green Regulations
The Independent, 13 October 2016
Ian Johnston
Campaigners have expressed fears of a 'bonfire' of environmental regulations after Britain leaves the EU

The Government must not abandon the fight against global warming after Brexit – despite calls to do so from the climate-sceptic wing of the Conservative party – its official advisers have said in a report.

There are fears of a "bonfire" of regulations designed to protect the environment and reduce greenhouse gases after the UK leaves the European Union, which has developed world-leading standards.

In the report, the Committee on Climate Change (CCC) said its number one "key message" was that the UK's climate goals "have not changed".

Targets to reduce carbon emissions "must continue to be met after the UK has left the EU", it stressed.

The UK is currently on course to cut emissions by only half the amount needed by 2030 and the CCC said there was an urgent need for action – rather than more promises.



Full story



4) GWPF Submission To House Of Lords Inquiry: The Economics Of UK Energy Policy
House of Lords Economic Affairs Committee

The House of Lords Economic Affairs Committee is conducting an inquiry in the Economics of UK Energy Policy. The Global Warming Policy Forum (GWPF) has submitted the following written evidence.


Executive Summary
Despite relatively low wholesale prices, electricity consumers in all sectors of the UK (domestic, industrial, commercial and public sector) are facing the prospect of sharp price rises. This is largely as a result of the direct and indirect effects of unilateral climate and energy policies. Electricity capacity margins are tightening and there are few signs of the necessary investment in firm generating capacity, needed to meet peak demand and keep bills low. Britain's recent decision to leave the EU should promote a wholesale re-evaluation of its decarbonisation policies.

At present, no new generating capacity can be built without government subsidy. This extraordinary failure is in large part due to market distortions arising from the promotion of renewable sources of energy, which require high levels of subsidy and impose significant network costs. Government forecasts now show that an extraordinary 43% of the price businesses pay for electricity will be made up of the direct costs of climate and energy policies by 2020. These costs are damaging to Britain's energy-intensive industries in particular. As a result, the UK will import a greater number of goods from countries such as China, which overwhelmingly use coal-power generation for the manufacturing of products; the unfortunate reality of a unilateral approach.

A hugely significant development in the energy sector has been the dramatic fall in the oil and gas price. Lower than expected fossil fuel prices have undermined the prospects of renewable technologies becoming competitive. As a consequence, decarbonisation policies should be reviewed on the basis of up to date price forecasts for all technologies. Such a review should facilitate the removal of any barriers to investment in cheap and reliable sources of energy. It should also prioritise lowering bills for households and businesses. At a domestic level, Britain should urgently amend the Fifth Carbon Budget, which was rushed into law before the consequences of 'Brexit' become clear. Britain's decision to leave the European Union means that all relevant EU legislation also needs to be reconsidered.

What are the key economic challenges for the energy market which the Government must address over the next decade? Has the market and the Government responded effectively to changes in external circumstances, such as significant shifts in technology and prices?

A key economic challenge will be to respond to the highly significant and largely unexpected fall in fossil fuel prices. Impact assessments of renewable energy policies have to this point been reliant on high fossil fuel price projections. One such example is the EU's 2030 Climate and Energy Framework, which assumed oil prices of $115 per barrel in 2020, $121 in 2030 and $143 in 2050[1]. Similarly, when assessing the impacts of the Fifth Carbon Budget, the Committee on Climate Change (CCC) assumed that oil, gas and coal prices would rise by 19%, 32% and 9% respectively, between 2014 and 2030[2].

Fossil fuel prices have developed quite differently from these projections. The oil price is currently running at almost 60% below the 2014 forecast used by the CCC. Gas prices likewise are running at or below the minimum level predicted by the 'low scenario' used in the CCC paper, entitled Sectoral Scenarios for the Fifth Carbon Budget – Technical report. This was not published until November 2015, but still used DECC's out of date 2014 fossil fuel price projections. The report estimated that under a low fossil fuel price scenario, the overall cost of meeting the Fifth Carbon Budget could be 80% higher than the central scenario. This cost is estimated as 0.9% of 2030 GDP[3], but only accounts for an extra 5% reduction in emissions. The actual cost could be higher even than this upper estimate; the low price scenario assumes an oil price of $88.50 in 2016, far higher than current prices. Due to the way in which Contracts for Difference (CfDs) operate, lower than expected wholesale prices end up increasing the cost of government intervention in the energy sector. A striking example of this has been the Hinkley Point C nuclear power station. The lifetime cost to consumers of this power plant is now expected to be £29.7bn, over four times higher than initial estimates of £6.1bn[4].

Good governance often requires recognising that when the facts on the ground change, it is a good time to have a rethink. The new Department for Business, Energy and Industrial Strategy should review the Fifth Carbon Budget accordingly, with a new impact assessment that takes into account the latest price projections, and acknowledges the important implications of Britain's decision to leave the European Union.

Full GWPF submission

5) New Study: China's Expanding Overseas Coal Power Industry
European Centre for Energy and Resource Security (EUCERS)
Dr Frank Umbach & Dr Ka-ho Yu

China is the world's largest energy consumer overall and the largest coal consumer in particular, using nearly as much coal as the rest of the world combined. It is also the largest coal producer, providing more energy to the world's economy than the entire Middle Eastern oil production. Since 2011, it has also become the world's largest importer of coal.

But in contrast to China's oil and gas investments abroad, Beijing's expanded investments in foreign coal mining and coal power projects have failed to garner much international attention. This lack of interest exists, presumably, because the West does not see comparable geo-economic and geopolitical implications in these investments, even if said investments cast a shadow over on-going energy policy and emission reduction debates at the global climate summit in Paris and beyond.
This perception continues despite emerging and visible China-backed changes to the current international economic and geopolitical balance and infrastructure.

Chief among these moves are both Beijing's new economic and diplomatic project One Belt, One Road (OBOR), as well as the developing world's mounting dissatisfaction with the West's refusal to providing financial support to coal projects in developing countries, where coal remains a key energy resource for economic growth. In this context, these countries have now turned to Chinese and new institutions such as the Asian Infrastructure Investment Bank (AIIB) for their financing needs. In addition, China may triple its global offshore assets and thus become the world's largest overseas investor in the next decade.

The limited debate on Chinese coal investments abroad also overlooks several factors. First, China and other countries are actively and increasingly exploring new coal options – in particular the gasification of coal. Second, as part of its official strategy, Beijing has continuously increased its overseas investment in coal mining and power projects during the last decade. Third, China may have the third largest coal reserves behind the United States and Russia, but it may last a decidedly low 30 years, which helps explain the Chinese search for coal import supplies and investment abroad. Finally, China is currently restructuring its own coal industry by closing many smaller, inefficient mines and companies.

Moreover, two other factors need to be considered in the context of China's current efforts to restructure its coal industry. First, it is important to question whether China may be merely following the U.S. and European examples of favouring foreign rather than domestic investment in energy intensive industries. Such a move would, in turn, have the added benefit of reducing domestic greenhouse gas emissions (GHGE), but at the cost of so-called carbon leakage by merely transferring CO2 emissions to other countries and leading to even higher global GHGE.

Second, the weakening Chinese economic growth and recent stock market meltdown has triggered considerations to relocate foreign and Chinese production facilities elsewhere. But this situation might also constrain future investments at a time when the Chinese government has initiated a new geopolitical investment strategy. Likewise, it may also decrease China's foreign investment in coal mining and power projects.

Against this background and the recent global climate summit in Paris of last December, this study analyses China's overseas investments in coal mining and coal power projects. It sheds light on China's new business opportunities and risks, as well as on the geopolitical implications for European and global energy markets. By analysing developments in world markets and the major directions of China's future climate, energy and coal policies, the study reveals the following:

Global Coal Markets: Shifts in Production and Demand Patterns
With a reserve-to-production (R/P) ratio of 110 years, coal will be available for much longer than conventional oil or natural gas reserves – 52.5 and 54.1 years, respectively –; while global coal reserves have been halved during the last decade due to rising coal demand particularly in Asia and China. Future technology and better prices could grant access to currently unusable coal concentrations that are 20 times larger than existing coal reserves.

After oil, coal is currently still the second most important energy resource for global energy consumption. It is cost-competitive and not limited to any regions and countries. Coal is not just used as a fuel for coal-fired electricity generation and heat, but also to make steel, cement, fertilisers, and is a feedstock for the chemical industry.

For more than 20 years, global growth in absolute volumes in coal-fired generation has been greater than that of all non-fossil fuel sources combined – including during the last few years.

Almost all international energy organisations and experts expect global energy demand to continue climbing through 2040, with Asia experiencing the largest growth in energy needs.

Full paper
The

London-based

Global Warming Policy Forum

is a world leading think tank on global warming policy issues.

The GWPF

newsletter is prepared by Director Dr Benny Peiser - for more information, please visit the website at

www.thegwpf.com.