How Far Will Global Temperature Drop After El Nino?
1) Not Hacked: Former IPCC Head Pachauri Lied, Forensic Police Report Reveals
Economic Times of India, 2 November 2016
2) David Whitehouse: How Far Will Global Temperature Drop After El Nino?
GWPF, 3 November 2016
3) Europe May Abandon Renewable Energy Priority, Leaked Documents Reveal
The Guardian, 1 November 2016
4) European Climate Policy Put On Hold
EurActiv, 1 November 2016
5) Germany Won't Exit Coal Before 2040, Finance Minister Says
Power Engineering, 2 November 2016
6) China Will Still Be Building 1 Coal Power Plant A Week In 2020
Bloomberg, 2 November 2016
7) And Finally: A Reality Check On U.S. Energy Consumption
U.S. Energy Information Administration, 1 November 2016
1) Not Hacked: Former IPCC Head Pachauri Lied, Forensic Police Report Reveals


Economic Times of India, 2 November 2016


Raghav Ohri

NEW DELHI: Not hacked. Electronic devices used by RK Pachauri, the ex-chief of TERI [and former head of the IPCC] being investigated for sexual harassment, were not hacked, the Forensic Science Laboratory (FSL), Gandhinagar, has said in a confidential report submitted to Delhi Police.
December 10, 2007: Nobel Peace Prize laureates, Rajendra Pachauri and Al Gore pose on the podium with their diplomas and gold medals during the Nobel ceremony at the City Hall in Oslo. The former US vice president and the UN's top climate panel received the 2007 Nobel Peace Prize at a ceremony in Oslo for their work to help combat global warming.
Pachauri had said his personal electronic devices had been hacked. Delhi Police had last year asked FSL, India's premier forensic institute, to examine seven devices – mobiles, computers, laptops – used by Pachauri.

Delhi Police had asked FSL 22 questions about these devices.

FSL's report, reviewed by ET, says "no suspected or unusual activity was observed" in Pachauri's electronic devices.

Delhi Police had asked FSL "if any spyware/malware or keylogger" (a type of surveillance software) was found in Pachauri's electronic devices. It had also asked "whether devices have been hacked or not?"

FSL concludes that Pachauri's electronic devices were not hacked or interfered with in any manner. FSL's report also says the devices were not infected with any software that could have compromised their security. A top Delhi Police investigator familiar with the case told ET the police wanted to rule out even a "speck of doubt" that Pachauri's electronic devices were hacked or compromised in any manner, and that's why FSL was asked to examine so many possibilities. He also said the police wanted to leave nothing that could invite "wishful misinterpretation". [...]

Delhi Police had filed an FIR against Pachauri in February 2015, after preliminary enquiry into a complaint of sexual harassment by a 29-year-old woman employee them employed by TERI.

ET had first reported that a sexual harassment complaint had been filed against Pachauri. Pachauri, responding to ET's questions, had said: "From your email, I have come to know the factum that my computer resources including my email ids, mobile phones and WhatsApp messages have been hacked and that unknown cyber criminals have gone ahead and have unauthorisedly accessed my computer resources and communication devices and further committed various criminal activities."



Full story



2) David Whitehouse: How Far Will Global Temperature Drop After El Nino?


GWPF, 3 November 2016


David Whitehouse, GWPF Science Editor

After the recent intense El Nino peaked between January – April global monthly temperatures this year

have been declining

.

Although they remain high they are expected to decline further as the El Nino effect finally recedes.




One important factor frequently missing in reports is that El Nino is a short-term event – weather not climate. Even the Met Office is a little confused when it comes to short-term and long-term effects.They call the El Nino a naturally-occurring climatic event, adding that it is the dominant factor of climate variability on interannual timescales. This is a contradiction as climate is, of course, measured over a much longer period than individual El Ninos. Indeed, the rapid rise and fall of the El Nino seen in the recent temperature spike is much too fast to be a climatic phenomenon.

With 2016 being predicted as a record warm year it is interesting to speculate on what the El Nino's contribution will be, which is, in a word, everything. It can be argued that without the El Nino (and the so-called "Pacific Blob") 2014-2016 would not have been record warm years.

In terms of temperature 2015 was a record, beating 2014 by a narrow margin; Nasa Giss had it 0.13+/-0.1 °C, HadCrut4 was 0.18+/-0.1 °C and NOAA 0.16+/- 0.09 °C. When the three temperature datasets are considered 2015 was 0.16 °C above 2014.

Even though the year is not over it seems clear that 2016 is going to beat 2015 and become the new record year. Preliminary estimates suggest that 2016 will be about 0.18 °C above 2015. But what was the El Nino's contribution to 2015 and to 2016? There are a large range of estimates.

Land Of Confusion
Jeff Knight from the Met Office's Hadley Centre, said their modelling set the additional heat from a big El Niño, like the current one, at about 0.2 °C. He said wind patterns in the northern hemisphere had added another 0.1 °C to recent monthly readings.

On the other hand Adam Scaife suggested it was as low as a few hundredths of a degree, and Real Climate suggested 0.07 °C. Michael Mann told the Guardian that his estimate for the El Nino contribution to 2016 was less than 0.1 °C. Some estimates of the El Nino boost have been greater. When discussing the 1997-98 El Nino Hansen et al 2006 suggested it added 0.2 °C to global temperature. Foster and Rahmstorf (2011) suggest about 0.2 °C.

According to Sciafe the El Nino contribution to 2016 is expected to be greater than its effect on 2015, as its influence is generally greater in its second calendar year due to thermal inertia. He estimates a boost of about 0.2 °C.

David Karoly from the University of Melbourne said that that after the El Nino has dissipated its effect on global air temperatures will persist for 3-6 months. Importantly he also said that after the El Nino has ended completely there will be no more temperature records. In other words, without the El Nino recent years would not have been record-breaking.

Misunderstanding
If the record years are due to non-climatic variations one wonders why they are so often used to support climate models. Consider a comparison between CMIP5 and observations. It was clear that prior to 2015 the discrepancy between observations and models was stark. With the inclusion of 2015, and especially 2016 the impression is given that the discrepancy is decreasing! Do bear in mind however that the models do not include small volcanic effects and the recent dip in solar activity.

But now comes a reality check: The El Nino has ended and the global temperatures are falling. Many think that 2017 will be cooler than previous years. Myles Allen of Oxford University says that by the time of the next big United Nations climate conference global temperatures are likely to be no warmer than the Paris COP in 2015. This would be a strange thing to happen if, as some climate scientists have claimed, recent years would have been a record even without the El Nino.

For some the prospect of global cooling is a problem, especially for those who see the well-established change in the behaviour of global temperatures after around the turn of the century as an powerful "weapon" used by "sceptics" to cast doubt on climate science. But these sceptics were talking about real, emerging climate science in a way that was resisted by many of the more publicly visible scientists who had failed to adapt to the facts. The so-called "pause" – which is obvious prior to the recent El Nino – signaled a growing appreciation of decadal climatic variations. It provided an important step for understanding what was going on.

Frankly, those individuals and organisations who a decade or so ago spoke of a clear and strong signal of global warming and imminent rapid temperature rise, have had to change their tune, and in some cases try to rewrite history by now saying they always knew what was going on.

Only time will place the El Nino's influence of previous years into its proper context against variations in the background rate of global temperature change. Will the Pause resume? Some scientists fear global temperatures may drop back in years to come. They are preparing their colleagues for such a situation and are warning climate scientists "not be distracted by temporary fluctuations in the other direction which will eventually reverse."

Feedback: david.whitehouse@thegwpf.com

3) Europe May Abandon Renewable Energy Priority, Leaked Documents Reveal


The Guardian, 1 November 2016


Arthur Neslen

Windfarms and solar power could soon lose the privilege of getting priority over other energy sources on European electricity grids, leaked documents show.

Paring back the "priority dispatch" system could increase carbon emissions by up to 10%, according to a confidential EU impact assessment seen by the Guardian. But the document goes on to model four scenarios for doing just that, in a bid to make Europe's energy generators more flexible and cost-competitive.

Some industry sources have told the Guardian they are alarmed and think it highly likely that priority dispatch for clean energy will be scrapped from the EU's renewable energy directive, which is currently being redrafted for the post-2020 period.



Full story



4) European Climate Policy Put On Hold


EurActiv, 1 November 2016


Aline Robert

Angela Merkel's absence from the COP 22 is symbolic of a European climate and energy policy beset by indecision and infighting. European climate policy is at a standstill. Little progress has been made since the 2014 Council summit.



The EU is already struggling to live up to the promises it made at last year's Paris climate conference (COP 21).

The German Chancellor will be conspicuously absent from the COP 22 in Marrakesh this November. François Hollande, Matteo Renzi and Marino Rajoy all plan to attend the UN climate conference.

This absence speaks volumes about Germany's motivation to pursue its climate pledges from the COP 21 in Paris last year. As promised, Berlin published its 2050 climate action plan in September. But while the text tables reductions to greenhouse gas (GHG) emissions of 80-95%, it says little about how the country intends to tackle its two main problems: coal-fired power stations and transport.

Kicking the coal habit
Germany's reluctance to expand on how it plans to ditch coal is down to the very thing that has until now made it the leader of the energy transition. Berlin's rejection of nuclear energy forced it to develop renewables to close the energy gap. But the steep rise in energy prices and the knock-on effects for the competitiveness of German industry have led some to question the wisdom of leaving behind fossil fuels.

Intense lobbying persuaded Germany's Minister for Economic Affairs and Energy, Sigmar Gabriel, not to set a firm end date for Germany's reliance on coal. He said last Wednesday (26 October) that coal would remain a part of the German energy mix until at least 2040. And the country's plans for electric cars have fallen to the same fate.

But, as a recent report by the European Environment Agency highlighted, the closure of the EU's coal-fired power stations is essential for the EU to reach its 2050 target of cutting GHG emissions by 80-95%.

Germany will also have to step up its efforts if it is to reach its 2020 targets on CO2 emissions and – perhaps more surprisingly – given the scale of the country's energy transition, the share of renewables in its energy mix. For all its early progress, the Energiewende does not comprehensively address Germany's energy needs, but focusses mainly on the production of electricity.

Lack of enthusiasm for effort sharing by 2030
This puts the EU's climate policy in a delicate position, as Germany had previously been one of the bloc's leaders in this regard. Paris sees itself as a future leader on climate change, but will have to work on its credibility: France is also behind on its 2020 targets, both in terms of emissions and renewables.

The Union may have ratified the Paris Agreement after salvaging a European deal at the last minute on 6 October, but only a small number of member states have done so themselves.

And European climate policy is at a standstill. Little progress has been made since the 2014 Council summit where the broad 2030 emissions reduction objectives were laid down, while the effect of the COP 21 has been to drive up the level of ambition required.

The Commission's effort sharing proposal concerning the transport and agriculture sectors met with widespread disapproval in the Environment Council in mid-October. 12 countries (Latvia, the Czech Republic, Denmark, Lithuania, Romania, Poland, Malta, Croatia, Bulgaria, Spain, Austria and Belgium) have called on the executive to make the emissions accounting rules under the proposal more flexible, as a way of reducing their overall effort.



Full post



5) Germany Won't Exit Coal Before 2040, Finance Minister Says


Power Engineering, 2 November 2016


Diarmaid Williams

Germany's economy minister says his country will not be phasing out brown coal before 2040, as the government looks to ways to ensure minimisation of job losses in coal regions.

Sigmar Gabriel told a conference in Berlin, "It will on no account be switched off in the next decade – in my opinion not even in the one after that."

This reinforces the message coming from the government in early summer. In June Berlin distanced itself from initial proposals to set out a timetable to exit coal-fired power production "well before 2050″ as part of a national climate action plan.

Now it plans to set up a committee for climate protection and structural change that will deal with how to exit brown coal production while ensuring jobs for the affected regions.

The committee will be asked to come up with proposals by 2018.



Full story



6) China Will Still Be Building One Coal Power Plant A Week In 2020


Bloomberg, 2 November 2016


Reed Landberg

Asia's demand for coal is likely to increase for years to come even though countries including China, Japan and India have agreed on steps to limit fossil-fuel pollution damaging the climate.

That's the conclusion an analysis of Bloomberg New Energy Finance delivered at its conference in Shanghai on Wednesday. The charts below from a presentation by BNEF founder Michael Liebreich show the impact China's coal consumption will have on the world's climate goals.

With envoys from 190 nations gathering next week in Morocco to advance the emissions-curbs agreed to at a landmark United Nations conference in Paris last year, the BNEF findings show that the world remains far from its goal of reining in the threat of global warming. At the same time, clean-energy investment is set to drop.

"Clean energy investment will be down 15 to 20 percent this year," Liebreich said in an interview in Shanghai. "As things stand, it will not bounce back to a new record in the next five years" because of sluggish economic growth, moves by policymakers to reduce costs and the falling price of wind and solar equipment.

Coal Use Is Rising Quickly In Asia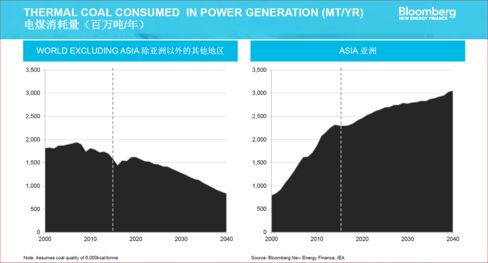 The slide above based on data from BNEF and the International Energy Agency shows coal use in Asia (on the right) continuing to rise while it drops markedly outside the region.

China Still Adding Coal Plants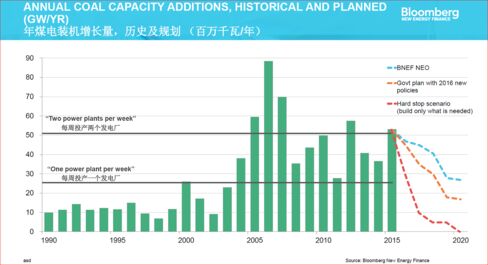 A common refrain is that China builds two new coal plants a week. That's still true despite efforts by policymakers to rely less on coal for power generation and as growth in demand for power slides. The above chart shows that BNEF's outlook sees China's rate of building coal-fired power stations falling from two to one in the next five years.



Full post



7) And Finally: A Reality Check On U.S. Energy Consumption
U.S. Energy Information Administration, 1 November 2016

Despite the changes in fuel sources, fossil fuels have continued to make up a large percentage of U.S. energy consumption. In 1908, fossil fuels accounted for 85% of total consumption. 107 years later it's more or less the same: fossil fuels still account for 81% of total energy consumption in 2015.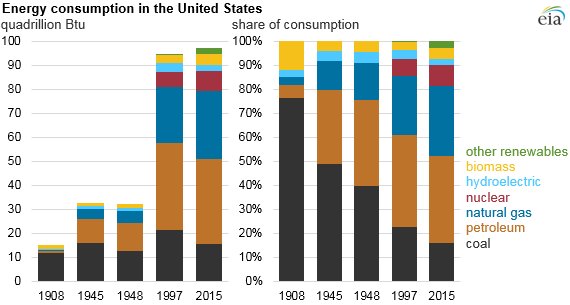 The

London-based

Global Warming Policy Forum

is a world leading think tank on global warming policy issues.

The GWPF

newsletter is prepared by Director Dr Benny Peiser - for more information, please visit the website at

www.thegwpf.com.