How Far Will Global Temperatures Drop?
1) Record Drop In Global Temperatures As El Nino Warming Ends
Mail on Sunday, 27 November 2016
David Rose

Global average temperatures over land have plummeted by more than 1C since the middle of this year – their biggest and steepest fall on record. According to satellite data, the late 2016 temperatures are returning to the levels they were at after the 1998 El Nino.

The news comes amid mounting evidence that the recent run of world record high temperatures is about to end.

The fall, revealed by Nasa satellite measurements of the lower atmosphere, has been caused by the end of El Nino – the warming of surface waters in a vast area of the Pacific west of Central America.

Some scientists, including Dr Gavin Schmidt, head of Nasa's climate division, have claimed that the recent highs were mainly the result of long-term global warming.

Others have argued that the records were caused by El Nino, a complex natural phenomenon that takes place every few years, and has nothing to do with greenhouse gas emissions by humans.

The new fall in temperatures suggests they were right.

Big El Ninos always have an immense impact on world weather, triggering higher than normal temperatures over huge swathes of the world. The 2015-16 El Nino was probably the strongest since accurate measurements began, with the water up to 3C warmer than usual.

It has now been replaced by a La Nina event – when the water in the same Pacific region turns colder than normal.

This also has worldwide impacts, driving temperatures down rather than up.

The satellite measurements over land respond quickly to El Nino and La Nina. Temperatures over the sea are also falling, but not as fast, because the sea retains heat for longer.

This means it is possible that by some yardsticks, 2016 will be declared as hot as 2015 or even slightly hotter – because El Nino did not vanish until the middle of the year.

But it is almost certain that next year, large falls will also be measured over the oceans, and by weather station thermometers on the surface of the planet – exactly as happened after the end of the last very strong El Nino in 1998. If so, some experts will be forced to eat their words.

Last year, Dr Schmidt said 2015 would have been a record hot year even without El Nino.

'The reason why this is such a warm record year is because of the long-term underlying trend, the cumulative effect of the long-term warming trend of our Earth,' he said. This was 'mainly caused' by the emission of greenhouse gases by humans.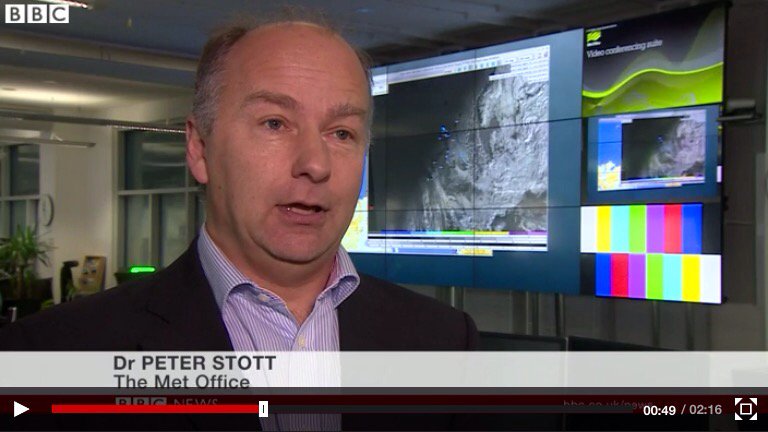 BBC News interview with Dr. Peter Stott (UK Met Office) on 2015 warm record: "The main reason that we have such warm temperatures is actually human-induced climate change. That's the main factor. And then El Niño contributes a small amount on top."

Dr Schmidt also denied that there was any 'pause' or 'hiatus' in global warming between the 1998 and 2015 El Ninos.

But on its website home page yesterday, Nasa featured a new study which said there was a hiatus in global warming before the recent El Nino, and discussed why this was so. Last night Dr Schmidt had not returned a request for comment.

However, both his own position, and his Nasa division, may be in jeopardy. US President-elect Donald Trump is an avowed climate change sceptic, who once claimed it was a hoax invented by China.

Last week, Mr Trump's science adviser Bob Walker said he was likely to axe Nasa's $1.9 billion (about £1.4 billion) climate research budget.

Other experts have also disputed Dr Schmidt's claims. Professor Judith Curry, of the Georgia Institute of Technology, and president of the Climate Forecast Applications Network, said yesterday: 'I disagree with Gavin. The record warm years of 2015 and 2016 were primarily caused by the super El Nino.'

The slowdown in warming was, she added, real, and all the evidence suggested that since 1998, the rate of global warming has been much slower than predicted by computer models – about 1C per century.

David Whitehouse, a scientist who works with Lord Lawson's sceptic Global Warming Policy Foundation, said the massive fall in temperatures following the end of El Nino meant the warming hiatus or slowdown may be coming back.

'According to the satellites, the late 2016 temperatures are returning to the levels they were at after the 1998 El Nino.

The data clearly shows El Nino for what it was – a short-term weather event,' he said.

Full story & comments

2) How Far Will Global Temperatures Drop After El Nino?
GWPF Observatory, 3 November 2016
David Whitehouse, GWPF Science Editor

After the recent intense El Nino peaked between January – April global monthly temperatures this year have been declining. Although they remain high they are expected to decline further as the El Nino effect finally recedes.

One important factor frequently missing in reports is that El Nino is a short-term event – weather not climate. Even the Met Office is a little confused when it comes to short-term and long-term effects.They call the El Nino a naturally-occurring climatic event, adding that it is the dominant factor of climate variability on interannual timescales. This is a contradiction as climate is, of course, measured over a much longer period than individual El Ninos. Indeed, the rapid rise and fall of the El Nino seen in the recent temperature spike is much too fast to be a climatic phenomenon.

With 2016 being predicted as a record warm year it is interesting to speculate on what the El Nino's contribution will be, which is, in a word, everything. It can be argued that without the El Nino (and the so-called "Pacific Blob") 2014-2016 would not have been record warm years.

In terms of temperature 2015 was a record, beating 2014 by a narrow margin; Nasa Giss had it 0.13+/-0.1 °C, HadCrut4 was 0.18+/-0.1 °C and NOAA 0.16+/- 0.09 °C. When the three temperature datasets are considered 2015 was 0.16 °C above 2014.

Even though the year is not over it seems clear that 2016 is going to beat 2015 and become the new record year. Preliminary estimates suggest that 2016 will be about 0.18 °C above 2015. But what was the El Nino's contribution to 2015 and to 2016? There are a large range of estimates.

Land Of Confusion
Jeff Knight from the Met Office's Hadley Centre, said their modelling set the additional heat from a big El Niño, like the current one, at about 0.2 °C. He said wind patterns in the northern hemisphere had added another 0.1 °C to recent monthly readings.

On the other hand Adam Scaife suggested it was as low as a few hundredths of a degree, and Real Climate suggested 0.07 °C. Michael Mann told the Guardian that his estimate for the El Nino contribution to 2016 was less than 0.1 °C. Some estimates of the El Nino boost have been greater. When discussing the 1997-98 El Nino Hansen et al 2006 suggested it added 0.2 °C to global temperature. Foster and Rahmstorf (2011) suggest about 0.2 °C.

According to Sciafe the El Nino contribution to 2016 is expected to be greater than its effect on 2015, as its influence is generally greater in its second calendar year due to thermal inertia. He estimates a boost of about 0.2 °C.

David Karoly from the University of Melbourne said that that after the El Nino has dissipated its effect on global air temperatures will persist for 3-6 months. Importantly he also said that after the El Nino has ended completely there will be no more temperature records. In other words, without the El Nino recent years would not have been record-breaking.

Misunderstanding
If the record years are due to non-climatic variations one wonders why they are so often used to support climate models. Consider a comparison between CMIP5 and observations. It was clear that prior to 2015 the discrepancy between observations and models was stark. With the inclusion of 2015, and especially 2016 the impression is given that the discrepancy is decreasing! Do bear in mind however that the models do not include small volcanic effects and the recent dip in solar activity.

But now comes a reality check: The El Nino has ended and the global temperatures are falling. Many think that 2017 will be cooler than previous years. Myles Allen of Oxford University says that by the time of the next big United Nations climate conference global temperatures are likely to be no warmer than the Paris COP in 2015. This would be a strange thing to happen if, as some climate scientists have claimed, recent years would have been a record even without the El Nino.

For some the prospect of global cooling is a problem, especially for those who see the well-established change in the behaviour of global temperatures after around the turn of the century as an powerful "weapon" used by "sceptics" to cast doubt on climate science. But these sceptics were talking about real, emerging climate science in a way that was resisted by many of the more publicly visible scientists who had failed to adapt to the facts. The so-called "pause" – which is obvious prior to the recent El Nino – signaled a growing appreciation of decadal climatic variations. It provided an important step for understanding what was going on.

Frankly, those individuals and organisations who a decade or so ago spoke of a clear and strong signal of global warming and imminent rapid temperature rise, have had to change their tune, and in some cases try to rewrite history by now saying they always knew what was going on.

Only time will place the El Nino's influence of previous years into its proper context against variations in the background rate of global temperature change. Will the Pause resume? Some scientists fear global temperatures may drop back in years to come. They are preparing their colleagues for such a situation and are warning climate scientists "not be distracted by temporary fluctuations in the other direction which will eventually reverse."

Feedback: david.whitehouse@thegwpf.com

3) After El Nino, Will The Global Warming Pause Continue?
GWPF Climate Briefing, March 2016

Is the global warming pause over for good — or will it continue once the current El Nino dies down?

That is the key question raised by Dr David Whitehouse, the GWPF's science editor, in a new video produced by the Global Warming Policy Foundation.

The current El Nino is one of the strongest on record. It has elevated global temperatures to a record level.

Many headlines claimed that 2015 was the year the "hiatus" was busted.
But is the pause in global warming really over?

El Ninos are frequently followed by cooler than average periods called La Ninas, so we can probably expect 2016 to be warm with the following two years somewhat cooler.

What does this mean for the global warming "hiatus?"

It means we have to wait for the current exceptional El Nino to end, and the subsequent La Nina, and a few years into 'normal' conditions.

Will global temperatures then start to rise again or will they continue to slow down?

Click on the image above to watch the video

4) 2016 El Nino Not Linked To Global Warming, Says Former IPCC Vice-Chairman
Malaysian National News Agency, 9 May 2016
Voon Miaw Ping

The current El Nino phenomenon that has brought prolonged drought and sweltering heat to Malaysia is the strongest of the 20 over the last 60 years, but there is no concrete evidence to link its heat intensity to global warming, says former IPCC vice-chairman.
Climatologist and oceanographer Prof Dr Fredolin Tangang of Universiti Kebangsaan Malaysia said this year's El Nino was even more extreme than the severe phenomena experienced in 1982/82 and 1997/98.

"There is no conclusive evidence that the occurrence of El Nino (frequency and intensity) is influenced by climate change," said Tangang, who had served from 2008 to 2015 as vice-chairperson of the Intergovernmental Panel on Climate Change (IPCC), a United Nations agency.

The IPCC, which comprises representatives from 190 countries, produces a report every six to seven years on the trend of global climate change, its causes and impacts and how to migitate these.

Saying that the current El Nino was in its final stretch and that the condition in the Pacific Ocean was expected to return to neutral by June, Tangang stated that the IPCC, in its latest report released in 2013, did not come up with a conclusion on the inter-relation between El Nino and global warming.

He said that unlike typhoons, which the IPCC concluded would increase in intensity as global warming intensified, El Nino occurrences did not switch in frequency or intensity due to climate change.

"El Nino is a naturally occurring phenomenon, which is part of the inter-annual variability associated with oscillation of the atmosphere-ocean interaction in the Pacific Ocean that occurs in a two- to seven-year cycle.

This system oscillates and it can be either in El Nino, La Nina or normal phases," he said.

However, he did not discount that global warming could change the El Nino effect on the climate in a particular region.

Full story

5) More Green Madness: Protected Forests In Europe Felled To Meet EU Renewable Targets
The Guardian, 24 November 2016
Arthur Nelsen

Protected forests are being indiscriminately felled across Europe to meet the EU's renewable energy targets, according to an investigation by the conservation group Birdlife.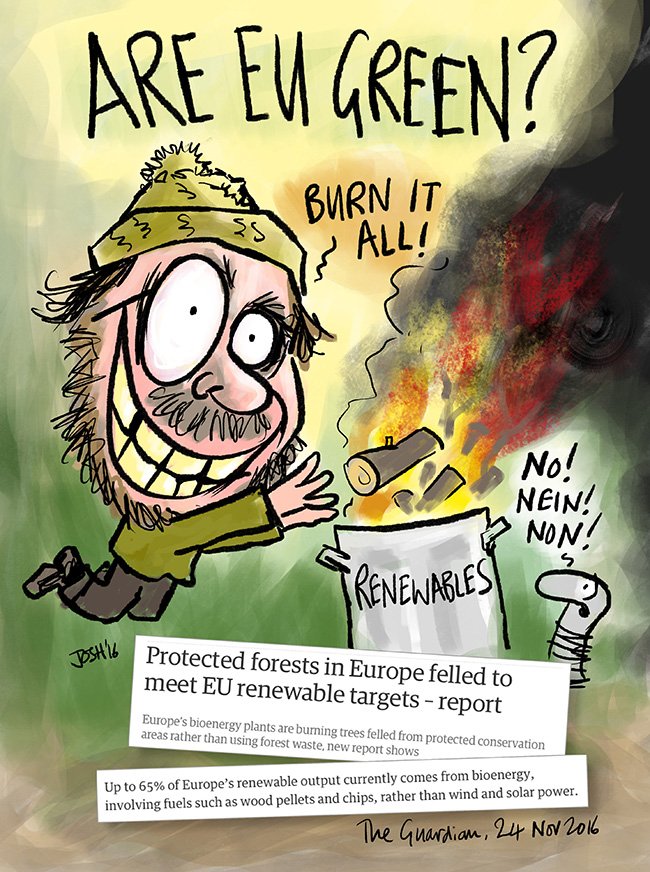 Up to 65% of Europe's renewable output currently comes from bioenergy, involving fuels such as wood pellets and chips, rather than wind and solar power.

Bioenergy fuel is supposed to be harvested from residue such as forest waste but, under current legislation, European bioenergy plants do not have to produce evidence that their wood products have been sustainably sourced.

Birdlife found logging taking place in conservation zones such as Poloniny national park in eastern Slovakia and in Italian riverside forests around Emilia-Romagna, where it said it had been falsely presented as flood-risk mitigation.

In Slovakia, the drive to reach the EU's renewable energy targets has seen a 72% increase in the use of wood for bioenergy since 2007, according to Birdlife's Black Book of Bioenergy paper.

Sini Eräjää, Birdlife's bioenergy officer, said: "This report provides clear evidence that the EU's renewable energy policies have led to increased harvesting of whole trees and to continued use of food crops for energy. We are subsidising large-scale environmental destruction, not just outside Europe, as in Indonesia or the US, but also right in our own backyard."

The logging of whole trees releases all of their stored carbon and drains the planet's "carbon sink" or potential for absorbing more emissions. Even if new saplings are planted, it may take 50 years or more until they are able to compensate for felled trees, by which point experts fear tipping points for runaway warming could have been reached.

Full story
The

London-based

Global Warming Policy Forum

is a world leading think tank on global warming policy issues.

The GWPF

newsletter is prepared by Director Dr Benny Peiser - for more information, please visit the website at

www.thegwpf.com.