Africa Has Become Much Greener In The Last 20 Years
1) Africa Has Become Much Greener In The Last 20 Years
Science Nordic, 28 May 2017
Kristian Sjøgren

Scientists have quantified for the first time how vegetation across the African continent has changed in the past 20 years. Thirty six per cent of the continent has become greener, while 11 per cent is becoming less green.

In Africa, a fight is happening. On one side natural forces are making the continent greener, and on the other, people are removing trees and bushes from the continent.

In densely populated regions, people are cutting down trees and forests, but elsewhere, where human populations are more thinly spread, bushes and scrub vegetation are thriving.

Now, scientists have quantified for the first time how vegetation across the continent has changed in the past 20 years.

Thirty six per cent of the continent has become greener, while 11 per cent is becoming less green.

The results show that not all is lost for Africa's nature, say the scientists behind the new research.

"Our results are both positive and negative. Of course it's not good that humans have had a negative influence on the distribution of trees and bushes in 11 per cent of Africa in the last 20 years, but it doesn't come as a complete surprise," says co-author Martin Brandt from the Department of Geosciences and Natural Resource Management at the University of Copenhagen, Denmark.

"On the other hand it's not all negative as an area—three times larger than the area where trees and bushes are disappearing—is becoming greener, which is positive, at least from a climate point of view," he says.

The new study is published in the scientific journal Nature Ecology and Evolution.

Challenges the general view of Africa

The study challenges the view that Africa is undergoing a sustained loss of trees and bushes, says Professor Henrik Balslev from the Department of Bioscience at Aarhus University, Denmark. Balslev was not involved in the study.

The new study offers a nuanced picture of how population growth in Africa influences vegetation in different ways.

"The study gives a much more nuanced picture of people's influence on vegetation in Africa, south of the Sahara, than we had before. The study will have significant impacts on how we evaluate people's influence on African nature in the future, as the expected population grows dramatically," he says.

Namibia and South Africa are getting greener

In the new study, scientists have used satellite data to study how climate change and people have affected the distribution of trees and bushes in Africa over the past 20 years.

Deforestation makes way for farming, cities and infrastructure, and the felled trees provide fuel as firewood. At the same time, more CO2 in the atmosphere together with a wetter, warmer planet, provides conditions that help trees and bushes to grow.

Full story


GOOD NEWS: PLANET EARTH COVERED IN MUCH MORE FOREST THAN THOUGHT

2) Gaia At Work: Global Greening Cools Parts Of Planet Earth
Daily Caller, 27 May 2017
Andrew Follett

Global warming is spurring so much plant growth that some parts of Earth are starting to cool, according to study released Thursday by Ghent University.

The study concluded that rising carbon dioxide (CO2) emissions are causing an increase in plant life, which generally has a moderate cooling impact on the local climate.

In warm areas, CO2 emissions increase the amount of leaf cover, leading to localized cooling. Cooler places see the opposite, with temperatures rising slightly since less sunlight is being reflected back from the surface from increased leaf coverage.

In total, researchers say that these effects have mitigated global warming by roughly 14 percent.

"We show that the increasing trend in [leaf area index] contributed to the warming of boreal zones through a reduction of surface albedo, and to an evaporation-driven cooling in arid regions," reads the study's abstract. "We show that the increasing trend in LAI contributed to the warming of boreal zones through a reduction of surface albedo, and to an evaporation-driven cooling in arid regions."

The scientists examined satellite data from 1982 to 2011 and assigned an LAI, or how much of the surface was covered by vegetation, to various regions of the planet. Scientists found that roughly 60 percent of Earth's vegetated surface saw an increase in greening that cooled the planet.

For colder areas, the greening effects caused a slight rise in air temperatures by approximately 10 percent.

Previous research from the Oak Ridge National Laboratory and the University of California-Irvine found plants use water more efficiently when exposed to higher concentrations of CO2, suggesting that droughts could be less severe.

Other research suggests that more CO2 increases plant growth, which would limit the impact of global warming. High CO2 levels cause plant life to thrive, particularly in arid regions where carbon emissions are literally causing deserts to bloom.

Roughly half of Earth's landmass demonstrates "significant greening," and only 4 percent of the world saw a decrease in plant life, according to past research. Increased vegetation growth could slow global warming, since more trees and plants equates to more sequestered CO2.

Full story

3) Arctic Sea Ice Bounces Back
Global Warming Policy Forum, 26 May 2017

Arctic Sea Ice extent is 800,000 km2 higher than it was in 2016.

GWPF TV: A BRIEF HISTORY OF ARCTIC ANGST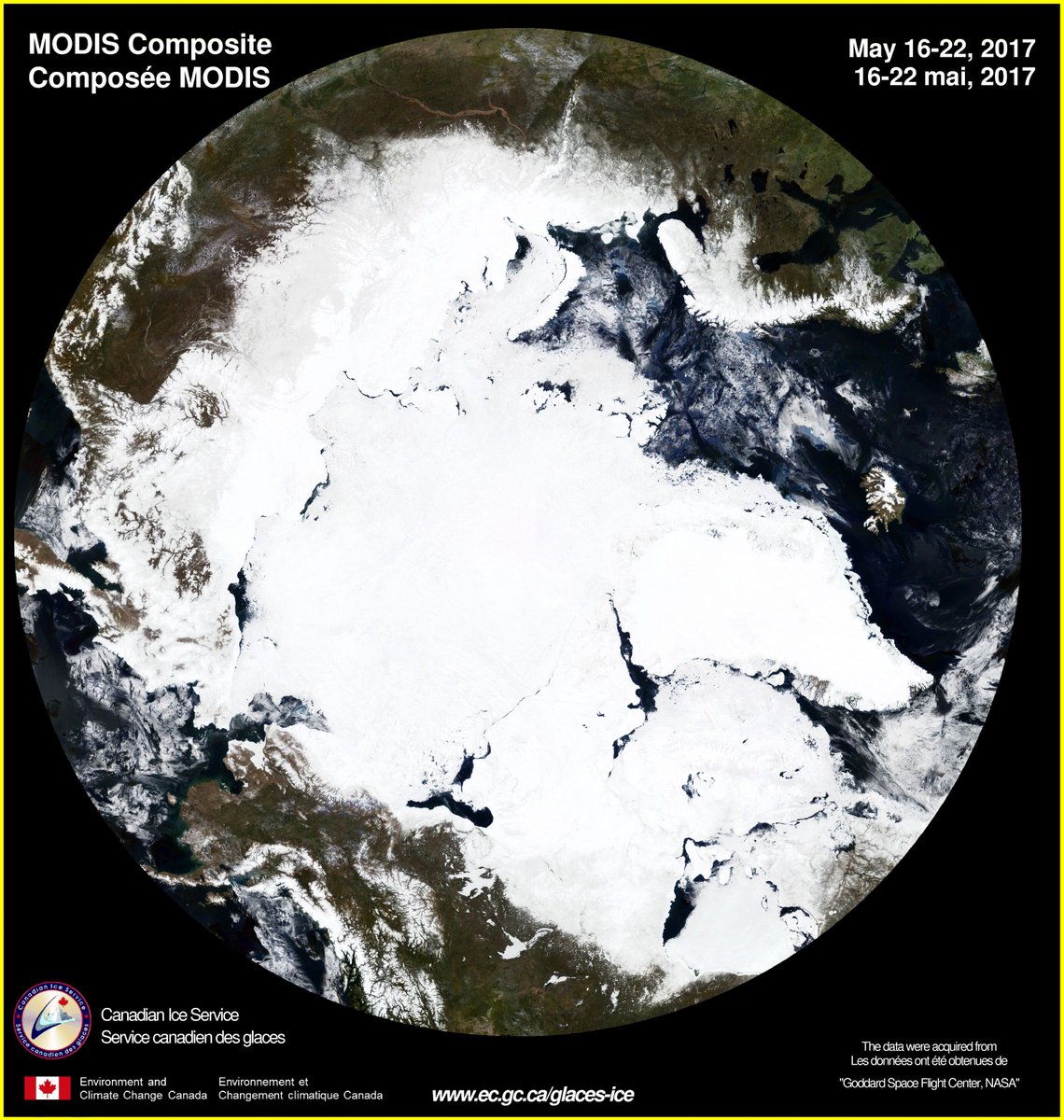 Sunshine Hours, 25 May 2017

4) Climate Scientists Trying To Discredit Trump's EPA Chief End Up Proving Him Right
Daily Caller, 25 May 2017
Michael Bastasch

A study meant to debunk a claim made by Environmental Protection Agency (EPA) Administrator Scott Pruitt in his confirmation hearing ended up doing the opposite — it proved him right.

The study, published Thursday in the journal Nature, found that Pruitt's claim of a "leveling off of warming" over the past two decades is unsupported by satellite-derived temperature data, which measures the lowest few miles of the atmosphere.

Researchers supposed debunking of Pruitt, however, centers on a selectively quoted line from his testimony, which cuts out the administrator's reference to the global warming "hiatus."

Scientists have been debating the "hiatus" in warming for years, trying to parse out its causes and, in some cases, if it's due to bad measurements in surface temperature readings. But the "hiatus" is extremely apparent in satellite temperature readings, stretching for about two decades.

"Mr. Pruitt claimed that 'over the past two decades satellite data indicates there has been a leveling off of warming,'" reads the study, quoting Pruitt's confirmation hearing testimony from January.

But Pruitt actually said: "over the past two decades satellite data indicates there has been a leveling off of warming, which some scientists refer to as the 'hiatus.'"

Pruitt was clearly referring to the "hiatus," or lack of significant warming, in the satellite temperature record that started in the late 1990s and continued until the recent El Nino began in 2015.

"This study seems to be an unwarranted kneejerk reaction to Pruitt's 'leveling off' of warming comment," Dr. Roy Spencer, a climate scientist who operates one of the satellite datasets relied upon by the study, told The Daily Caller News Foundation.

"But Pruitt's comment in testimony wasn't that precise, and it's true that the previous warming became much weaker and approached zero over a period of approximately 20 years until the 2015-16 warm El Nino event," Spencer said.

Pruitt has come under attack from environmentalists and some scientists for his comments on global warming. Most recently, opponents criticized Pruitt for saying that he didn't believe carbon dioxide was the main driver of recent warming.

Major media outlets, including The Washington Post, picked up this new study's results, criticizing Pruitt and his management at the EPA. WaPo reported, "Scientists just published an entire study refuting Scott Pruitt on climate change."

Researchers found that "the tropospheric warming from 1979 to 2016 is unprecedented relative to internally generated temperature trends on the 38-year timescale," according to the study.

Based on what Pruitt actually told Congress in January, however, the study essentially proves that he was correct.

Meteorologist Ryan Maue pointed out on Twitter that data presented in the study shows a slowdown in warming in the last 20 years. Maue also noted how authors used several studies on the "hiatus" in their citations, but refused to use the term in the study.

The study's authors used climate models to show the warming trend in satellite data couldn't be explained by natural warming, which excludes man-made greenhouse gases.

Full story

5) For Now, Trump Refuses To Cave As G 7 Meeting Ends Without Climate Agreement
Daily Mail, 27 May 2017

President Trump refuses to bow to pressure from world leaders on climate change and insists he'll do 'what's best for the United States'.

Donald Trump says he will announce his 'final decision' on whether or not the US will stay in the Paris climate agreement next week.

The president's surprise announcement came in the form of a tweet, which he sent on Saturday morning – the final day of his first international.

'I will make my final decision on the Paris Accord next week!' Trump wrote.

The president earlier declined to comment about the accord, as he refused to give into intense international pressure.

Earlier Saturday, the other six members of the G7 voted to abide by the Paris climate agreement, according to a person familiar with the talks. The person spoke on condition of anonymity to discuss the matter before the formal announcement.

The leaders attempted to convince Trump for three days – first in Brussels at meetings of NATO and the European Union, then in Sicily for G7, but the former reality television host will leave Italy without making clear where he stands.

Under the G7 agreement, the Trump administration will be given more time to consider whether it will remain committed to the 2015 Paris deal to rein in greenhouse gas emissions.

Backing out of the climate accord had been a central plank of Trump's campaign and aides have been exploring whether they can adjust the framework of the deal even if they do not opt out entirely.

Full story

see also:
ARE WHITE HOUSE OFFICIALS PLANNING TO KILL COAL?
6) The Pope's Climate Essay Won't Convince Trump, It Didn't Even Work On Catholics
Climate Home, 26 May 2017
George Marshall

Pope's encyclical on climate change appealed to liberals, but conservative Catholics were driven away by the values it invoked

Following their tense and grumpy meeting this week the Pope cheekily presented Donald Trump with a parting gift: his 165-page Encyclical on Care for our Common Home, better known as Laudato Si, in which he outlines his commitment to action on climate change.

Trump's face, shared widely on social media, hardly suggests any great delight and we cannot expect that a dense theological text will trigger his climate epiphany

But then Trump was never the intended audience. The critical question is whether, in the two years since it was released ahead of the Paris climate conference, the papal encyclical has shifted opinion among Catholics. And unfortunately the answer is "probably not".

On the face of it the encyclical should have been a key moment in galvanising global action. Climate change is a complex issue around which people require clear guidance – what social theorists call "elite cues" – from trusted high profile figures. And who could be more trusted to the world's 1.2 billion Roman Catholics than the leader of their church?

But climate change is also an exceptionally politically divided issue. A team at the University of Queensland recently reviewed surveys in over 56 countries and concluded that political orientation was by far the largest determinant of attitudes to climate change. Nowhere is this more the case than in the United States where attitudes to climate change are more strongly divided between left and right than any other single issue – including such hot button topics as gun control and abortion.

Three major US studies have found that liberal Catholics were far more motivated and inspired by the encyclical than conservative Catholics. The most recent study, published last week in the International Journal of Cognitive Science, concluded that "encyclical messages were processed through the perceptual filter of political ideology". We have no research on the response of Catholics outside the United States but can be reasonably confident, based on wider research on climate change attitudes, that these findings could extend to other developed countries.

What was more surprising, though, was that the encyclical actually increased polarisation. Research by Yale University found that following the publication of the encyclical the number of Catholics who strongly trusted the Pope as a source of information about global warming increased by a quarter. The number who strongly distrusted him doubled.

Full post
The

London-based

Global Warming Policy Forum

is a world leading think tank on global warming policy issues.

The GWPF

newsletter is prepared by Director Dr Benny Peiser - for more information, please visit the website at

www.thegwpf.com.