HUGE! Geologists Discover The US's Largest Natural Gas Deposit
1) EPA Chief Scott Pruitt Calls For U.S. To Exit Paris Climate Agreement
The Washington Post, 14 April 2017
President Trump's top environment official called for an "exit" from the historic Paris agreement Thursday, the first time such a high-ranking administration official has so explicitly disavowed the agreement endorsed by nearly 200 countries to fight climate change.
U.S. Environmental Protection Agency Administrator Scott Pruitt, left, shakes hands with coal miners during a visit to Consol Pennsylvania Coal Company's Harvey Mine in Sycamore, Pa., on April 13. (Gene J. Puskar/AP)

Speaking with "Fox & Friends," Pruitt commented, "Paris is something that we need to really look at closely. It's something we need to exit in my opinion."

"It's a bad deal for America," Pruitt continued. "It was an America second, third, or fourth kind of approach. China and India had no obligations under the agreement until 2030. We front-loaded all of our costs."

Pruitt had called the Paris accord a "bad deal" in the past but does not appear to have previously gone so far as to call for the United States to withdraw.

The Trump administration has previously said it is currently reviewing its position on climate change and energy policy and remains noncommittal, for now, on whether it will follow through on the president's campaign pledge to "cancel" the 2015 Paris climate agreement.

"You might've read in the media that there was much discussion about U.S. energy policy and the fact that we're undergoing a review of many of those policies," Energy Secretary Rick Perry said in Texas on Thursday, according to prepared remarks. "It's true, we are and it's the right thing to do."

Amid this uncertainty, the statement aligns Pruitt with a more hard-line approach held by some in the Trump administration, rather than the more moderate take of Secretary of State Rex Tillerson, who had said in his confirmation hearing that the U.S. should have a "seat at the table" in the Paris negotiations.

Tillerson's former company, the oil giant ExxonMobil, has also supported the Paris accord, and in late March wrote a letter to the White House reiterating its view that "the United States is well positioned to compete within the framework of the Paris agreement, with abundant low-carbon resources such as natural gas, and innovative private industries, including the oil, gas, and petrochemical sectors."

Full post

2) Background paper: Paris Agreement - A Blank Cheque For CO2 Emissions By China And India
Global Warming Policy Foundation, May 2016

The Paris Climate Agreement, far from securing a reduction in global CO2 emissions, is fundamentally a blank cheque that allows China and India to increase their emissions as they see fit in pursuit of economic growth.

This is the conclusion of a paper by Law Professor David Campbell (Lancaster University Law School) and published last year by the Global Warming Policy Foundation.

For the last 25 years, international climate change law has failed to agree a programme of global emissions reductions. Indeed this law grants a permission to major emitters such as China and India to emit as much as they see fit. Global emissions reductions therefore have always been impossible and since 1992 global emissions have enormously increased.

Indeed, the Paris Agreement contains a categorical statement that countries such as China and India will not be obliged to undertake any reductions.

Full paper (PDF)

3) HUGE! Geologists Discover The US's Largest Natural Gas Deposit
Daily Caller, 14 April 2017
Andrew Follett

The U.S. Geological Survey (USGS) discovered the largest continuous natural gas deposit in the country, stretching across the Gulf Coast states of Texas and Louisiana.

USGS estimates between 4 billion barrels of oil and 304.4 trillion cubic feet of natural gas sit untapped in the Haynesville and Bossier shale formations. More natural gas was found in these two formations than any other continuous assessment the USGS has ever conducted.

Secretary of the Interior Ryan Zinke tweeted "HUGE!" on news of the find Thursday. The Trump administration has promised to roll back regulations on oil and gas drilling.

A 2010 USGS assessment estimated the Haynesville and Bossier formations only held 70 trillion cubic feet of natural gas. USGS's latest assessment found even more oil and gas could be unlocked thanks to hydraulic fracturing.

Fracking involves injecting a high-pressure water mixture to release oil and gas resources from underground rock formations. Fracking triggered an oil and natural gas boom, which allowed the U.S. to pass Russia as the world's largest liquid fuels producer.

"As the USGS revisits many of the oil and gas basins of the United States, we continually find that technological revolutions of the past few years have truly been a game-changer in the amount of resources that are now technically recoverable," Walter Guidroz, a coordinator of the USGS's energy program, said in a statement.

"Changes in technology and industry practices, combined with an increased understanding of the regional geologic framework, can have a significant effect on what resources become technically recoverable," Guidroz said.

Full post

4) 'Catastrophic Collapse' Of Solar Energy As UK Government Cuts Subsidies
The Independent, 14 April 2017
Ian Johnston

The number of solar panels being installed in the UK has fallen by more than 80 per cent, according to an analysis of new figures in the latest sign that the industry is being strangled by government policies despite being one of the cheapest (sic) sources of electricity.

The Solar Trade Association (STA), which produced the figures based on recently released government statistics, found the first three months of this year had seen a catastrophic collapse in the number of solar panels being put up following the withdrawal of virtually all subsidies, a stunning business rate hike of up to 800 per cent and the imposition of "red tape".

No form of energy generation – renewable or fossil fuel – can currently be built without some form of subsidy and the STA stressed it was simply seeking a "level-playing field".

Overall, there was an 81 per cent decline in new solar panel capacity compared to the average over 2016.

The STA said it was particularly concerned by a 65 per cent drop in the number of large-scale solar schemes on hospitals, factories and other large buildings, which may well have been caused by the business rate increase. The figures equate to just one large factory roof having solar panels fitted every month in the whole of the country.

And the number of people putting solar panels on their homes is now at a six-year low.

Between January and March, there were about 650 rooftop deployments a week – a fall of more than 75 per cent on the long-term average of 2,700 a week since 2010.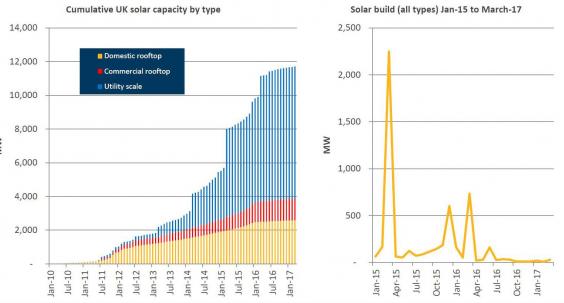 Solar has grown rapidly in the past few years, but installations have now crashed (Solar Trade Association)

The number of new solar farms, producing large amounts of cheap and green electricity for the grid, has also crashed after being "shut out of a heavily distorted electricity market". New installations are running at about an eighth of the level in January last year.

Full story

5) Green Madness: Ireland 'Doomed' To Face Hundreds Of Millions In Co2 Fines
The Times, 14 April 2017
Catherine Sanz

Ireland is unlikely to avoid having to pay multimillion-euro fines for missing emissions targets, the Environmental Protection Agency has warned. The country is "doomed" to face hundreds of millions of euros in sanctions.

Emissions from the agriculture and transport sectors are increasing at a rapid pace, the watchdog said yesterday. It forecasted that by 2020 the country would reduce greenhouse gas emissions by only 4 to 6 per cent from 2005 levels, despite a 20 per cent target it is legally bound to achieve.

Environmentalists and opposition parties condemned the government yesterday for failing to act and said that the country was "doomed" to face hundreds of millions of euros in sanctions.

The EPA report divided the findings down into two categories: "with existing measures" and "with additional measures," which are projected based on the implementation of preventative steps outlined in a number of government action plans.

The current projected reduction of 6 per cent is based on the government implementing additional measures, or if the government applies policy changes across a number of industries. The figure of 4 per cent is based on the current measures.

Full story

6) John Constable: The Opportunity Cost Of Renewables Investment
GWPF Energy, 12 April 2017
Dr John Constable: GWPF Energy Editor

In a statement announcing the latest round of auctions for Contracts for Difference the UK government has reported capital investment of £52 billion in renewable electricity generation over the period from 2010 to the present day, which implies an average capital cost of about £2.5m/MW, five times the cost of Combined Cycle Gas Turbines. This represents a convenient measure of both the opportunity cost and the scale of the potential malinvestment.

The UK government has announced the latest round of auctions for Feed-in Tariffs with Contracts for Difference (CfD) to support low carbon electricity. The document contains several useful numbers that can be used as the basis for further calculations revealing important points about the United Kingdom's renewable energy programme.

The current round is worth £290m (per annum), and is part of the government's commitment to issue contracts allocating £730m per annum in this parliament. These figures represent a 6% and 15% increment respectively on the current annual cost of about £5 billion.

Since these contracts last for fifteen years, we can calculate the total additional burden that government is proposing to put on to consumer as £4.4 billion from the current round and £11 billion in all the contracts that will be issued under this parliament. The subsidy component of this allocation is harder to calculate, since it depends in very large part on the future price of gas, on which it is in essence a gamble. As a rough approximation we can estimate that between half and two thirds of the sums above will be subsidy, say up to about £3bn for the current round and about £7 billion for the allocation in the current parliament. These are large sums.

Government also notes that there has been £52 billion of capital investment in renewable electricity generation since 2010. Capital cost data is extremely difficult to come by, so it is very useful to have such a figure in an official statement. Unfortunately, the government does not refer to the capacity built in that period but we can estimate this. There is approximately 33 GW of renewable generation capacity operational at present, of which about 14 GW was operational before 2010, so we can assume that the £52 billion invested has funded about 20 GW of capacity, mostly solar (11 GW) and offshore wind (4 GW), at an average of about £2.5m/MW.

That is extremely expensive in comparison with Combine Cycle Gas Turbines at about £500,000/MW, and reminds us that the £52bn invested in renewables has an opportunity cost. That money would have bought about 100 GW of CCGTs, which is about 30 GW more than would be required to serve the UK's current peak load of 60 GW, and that CCGT fleet would have secured the system and generated comparatively cheap kilowatt hours.

Since there has been so much excitement in the press about the supposedly falling cost of offshore wind, in particular, it is perhaps interesting in passing to check BEIS's implied capital cost figure, of about £2.5m/MW, against data from another source. The following chart comes from an EU funded study with the FOWIND consortium (Facilitating Offshore Wind in India) and prepared under the auspices of the Global European Wind Energy Council:

It is worth noting that not only does the mean capital cost of offshore wind rise sharply between 2000 and 2010, but the range appears to become much broader, suggesting, perhaps, that site specific features are a large part of capital expenditure. Furthermore, the trend line provided by the authors seems a highly questionable representation of the data points, which optically seem to indicate a rising not a falling trend.

At any rate, the cost per MW for offshore wind during the period under consideration, 2010 to the present day, is around €3.5m and €4m per megawatt, somewhat above the figure implied in the BEIS announcement, as would be expected, since BEIS's estimate dominated by solar, which at scale is cheaper if not cheap.

Returning to the headline figure, £52 billion is only something of which to boast if that expenditure really is investment, not malinvestment or sub-optimal investment. And let us not forget that these financial figures are tokens representing real world resources, special materials, ordinary materials, energy, and computational and human time, that cannot used for other purposes. £52 billion represents a significant fraction of the capital formation in the six year period 2011 to 2016 that we are considering. Indeed, it is only somewhat less than the quarterly capital formation in that period. Potential malinvestment on that scale can hardly be regarded without anxiety.

An indication of whether this investment is likely to be good value can also be found in the BEIS statement. Mr Norman, Parliamentary Under Secretary of State and Minister for Industry and Energy, is quoted as observing that the latest round of the CfD will save 2.5 million tonnes of carbon dioxide per year. It is not clear how that figure has been reached, but taking it at face value it allows us to calculate, using the subsidy proportion assumptions described above, that the abatement cost would be in the range £60–80/tCO2, or approximately $75–100/tCO2. Such figures are considerably in excess of all but the extreme estimates of Social Cost of Carbon ($105/tCO2), and vastly above the current €5 price of an emissions allowance for a tonne of carbon dioxide in the EU ETS. It must also be remembered that the EU ETS both guarantees and caps the savings in the EU, so the saving that Mr Norman mentions is not additional to that guaranteed by the ETS, but simply the substitution of a very expensive saving, via renewables policies, for the cheap one that would otherwise have been provided by the ETS.

Of course, and in fairness, it must be said that the very high abatement CfD cost is actually an improvement on those under the Renewables Obligation and the Feed-in Tariff, which can run to several hundred dollars per tonne, and in the case of small scale solar up to $1,000 dollars a tonne. Clearly, Government is trying to restrain renewables subsidy expenditure, and seems to be making some progress, but it remains committed to an oblique and timid incremental process the tardy pace of which entails further and quite avoidable economic harm, as well as continuing to give deeply confusing signals to power sector investors. Mr Norman and his staff must understand the implications of the figures given in their statement as well as anybody. Why do they not act firmly upon them?
The

London-based

Global Warming Policy Forum

is a world leading think tank on global warming policy issues.

The GWPF

newsletter is prepared by Director Dr Benny Peiser - for more information, please visit the website at

www.thegwpf.com.