Experts Call For The Creation Of 'Red Teams' To Challenge Un Climate Science Panel
1)
Swiss National Science Foundation: 'Weaker Sun Could Reduce Global Temperatures By Half A Degree'
Swiss National Science Foundation, 27 March 2017
2) Red Teams Can Save Climate Science From Itself
Global Warming Policy Foundation, 31 March 2017
3) Experts Call For The Creation Of 'Red Teams' To Challenge UN Climate Science Panel
The Washington Post, 31 March 2017
4) U.S. House Of Representatives Approves Honest And Open Science Act
U.S. Committee on Science, Space and Technology, 30 March 2017
5) US Coal Production On The Rise As Gas Prices Go Up
U.S. Energy Information Administration, 29 March
2017
6) China's Coal Power Generation Rising For Second Year: Citi
Platts, 31 March 2017
7) Surprise: Thousands Of Polluters In Northern China Fake Emissions Data, Resist Checks
South China Morning Post, 31 March 2017
8) South Africa Gives Green Light For Shale Gas Fracking In The Karoo
News24, 31 March 2017
9) Editorial: Lessons From Trump On Coal
The Australian, 31 March 2017
1) Swiss National Science Foundation: 'Weaker Sun Could Reduce Global Temperatures By Half A Degree'
Swiss National Science Foundation, 27 March 2017

For the first time, model calculations show a plausible way that fluctuations in solar activity could have a tangible impact on the climate. Studies funded by the Swiss National Science Foundation expect human-induced global warming to tail off slightly over the next few decades. A weaker sun could reduce temperatures by half a degree.

There is human-induced climate change, and there are natural climate fluctuations. One important factor in the unchanging rise and fall of the Earth's temperature and its different cycles is the sun. As its activity varies, so does the intensity of the sunlight that reaches us. One of the key questions facing climate researchers is whether these fluctuations have any effect at all on the Earth's climate. IPCC reports assume that recent solar activity is insignificant for climate change, and that the same will apply to activity in the near future.

Researchers from the Physical Meteorological Observatory Davos (PMOD), the Swiss Federal Institute of Aquatic Science and Technology (EAWAG), ETH Zurich and the University of Bern are now qualifying this assumption. Their elaborate model calculations are supplying a robust estimate of the contribution that the sun is expected to make to temperature change in the next 100 years. For the first time, a significant effect is apparent. They expect the Earth's temperature to fall by half a degree when solar activity reaches its next minimum.

According to project head Werner Schmutz, who is also Director of PMOD, this reduction in temperature is significant, even though it will do little to compensate for human-induced climate change. "We could win valuable time if solar activity declines and slows the pace of global warming a little. That might help us to deal with the consequences of climate change." But this will be no more than borrowed time, warns Schmutz, since the next minimum will inevitably be followed by a maximum. […]

Exactly how the sun will behave over the next few years remains a matter of speculation, however, since appropriate data series have only been available for a few decades and they reveal no evidence of fluctuations during this time. "To that extent, our latest results are still a hypothesis," says Schmutz, "and it remains difficult for solar physicists to predict the next cycle." But since we have been observing a consistently strong phase since 1950, it is highly likely that we will experience another low point in 50 to 100 years' time. It could be every bit as intense as the Maunder Minimum, which brought particularly cold weather during the 17th century.

Full story

2) Red Teams Can Save Climate Science From Itself
Global Warming Policy Foundation, 31 March 2017

London, 31 March 2017 — Prominent climate scientists tell US Congressional committee that climate science isn't working, but can be saved by a "red team" approach.

A group of prominent US climate experts have told a Congressional committee hearing that climate science is dysfunctional, beset by bias and groupthink, and is using a profoundly unscientific approach. Speaking before the U.S. House Committee on Science, Space and Technology, Professor John Christy told representatives that "consensus science", as practiced by much of mainstream climatology, was "not science" at all, while Professor Judith Curry explained that "self-deception" had got the better of far too many climatologists.

Both concluded that there had been a wholesale failure to use the scientific method in climatology, something that could only be put right by the introduction of official "red teams" – groups of eminent scientists, who would be asked to challenge and provide dissenting opinions on official climate assessments.

Professor Christy said: "Congress needs a parallel, scientifically-based assessment of the state of climate science. Many important issues are left out of government-directed climate reports entirely; our policymakers need to see the entire range of findings regarding climate change"

The testimony of all four climatologists who spoke at the congressional hearings, including the dissenting views of Professor Michael Mann, are being republished by the Global Warming Policy Foundation, the London-based think tank which seeks to enhance the public debates on climate science and policy.

Full Congressional testimonials

3) Experts Call For The Creation Of 'Red Teams' To Challenge UN Climate Science Panel
The Washington Post, 31 March 2017
Chelsea Harvey, Special to The Washington Post

Prominent scientists operating outside the scientific consensus on climate change urged Congress on Wednesday to fund "red teams" to investigate "natural" causes of global warming and challenge the findings of the United Nations' climate science panel.

The House Science Committee hearing on March 29. From left: Judith Curry, John Christy, Michael Mann and Roger Pielke. (House Science Committee)

The suggestion for a counter-investigative science force – or red team approach – was presented in prepared testimony by scientists known for questioning the influence of human activity on global warming. It comes at a time when President Donald Trump and other members of the administration have expressed doubt about the accepted science of climate change, and are considering drastic cuts to federal funding for scientific research.

A main mission of red teams would be to challenge the scientific consensus on climate change, including the work of the United Nations' Intergovernmental Panel on Climate Change, whose reports are widely considered the authority on climate science.

"One way to aid Congress in understanding more of the climate issue than what is produced by biased 'official' panels of the climate establishment is to organize and fund credible 'red teams' that look at issues such as natural variability, the failure of climate models and the huge benefits to society from affordable energy, carbon-based and otherwise," said witness John Christy, an atmospheric scientist at the University of Alabama in Huntsville, in his prepared testimony. "I would expect such a team would offer to Congress some very different conclusions regarding the human impacts on climate."

Wednesday's hearing, which focused on "the scientific method and process as it relates to climate change" is the latest in a series of recent House science committee hearings to challenge the existence or seriousness of climate change. In their prepared testimonies Wednesday, witnesses called by the committee's Republican majority suggested that organizations such as the IPCC present a biased view of climate change, and do not represent the views of the entire scientific community.

They argued that policymakers would benefit from assembling groups of experts to conduct assessments that challenge the accepted climate narrative.

"A scientist's job is to continually challenge his/her own biases and ask 'How could I be wrong?'" Judith Curry, professor emeritus at Georgia Tech's School of Earth and Atmospheric Sciences and president of the Climate Forecast Applications Network, said in her own testimony. "Playing 'devil's advocate' helps a scientist examine how their conclusions might be misguided and how they might be wrong.
Overcoming one's own biases is difficult; an external devil's advocate can play a useful role in questioning and criticizing the logic of the argument."

Curry also suggested that red teams or similar panels presenting diverse opinions on climate change could take on this role.

Red teams are special groups designed to improve an organization's performance by assuming the role of a rival, challenger or devil's advocate. They have sometimes been used by agencies such as the CIA and the Defense Department to help test out security operations or military tactics by assuming the role of enemies, hackers or foreign governments.

But using them to challenge accepted climate science is "a completely ridiculous proposition," said Peter Frumhoff, director of science and policy for the Union of Concerned Scientists.

The National Academy of Sciences already provides independent scientific advice to the government, he said, and it has consistently supported the scientific consensus that climate change is largely driven by human activity.

"The scientific community, in its various forms and in professional journals, has a very well-established, time-tested and by-and-large quite effective process for evaluating alternative hypotheses about any body of science – and that's called independent peer review," he told The Washington Post.

"The notion that we would need to create an entirely different new approach, in particular for the specific question around global warming is unfounded and ridiculous and simply intended to promote the notion of a lack of consensus about the core findings, which in fact is a false notion."

Indeed, studies have consistently found that the vast majority of scientists agree that the burning of fossil fuels is the main driver of climate change.

However, Curry and Christy question the extent of human activity's influence on the changing climate (although both acknowledge that it does play a role).

Christy points to his own research which suggests that the projections of certain climate models fail to match with observed temperature data (although other analyses have shown climate models agreeing well with observational data). Curry has also questioned certain aspects of mainstream climate science, such as the relative influence of human activity versus natural climate variations. The third majority witness, University of Colorado professor Roger Pielke, Jr. has generally acknowledged the human influence on climate change, but has been known to question the severity of global warming's impact on events like hurricanes or flooding.

Although research suggests that such viewpoints are outliers within the general scientific community, Christy suggests that the idea of a consensus is a "political notion." And therefore, he argues, policy should be informed by a more diverse set of viewpoints than the conclusions presented by bodies such as the IPCC – hence the red team idea, which he says he's proposed at other congressional hearings in the past as well.

"What's happened in the IPCC is they've just stopped selecting people who disagree with the consensus," Christy told The Washington Post. "So you have a consensus of those who agree with the consensus."

Full story

4) U.S. House Of Representatives Approves Honest And Open Science Act
U.S. Committee on Science, Space and Technology, 30 March 2017

WASHINGTON – The U.S House of Representatives today approved H.R. 1430, the Honest and Open New EPA Science Treatment Act of 2017 (HONEST Act), introduced by Science, Space, and Technology Committee Chairman Lamar Smith (R-Texas) and Rep. Henry Cuellar (D-Texas).

The bill passed by a vote of 228-194. The HONEST Act requires that Environmental Protection Agency (EPA) regulations be based upon science that is publicly available.

Chairman Smith: "The American people have a right to see the data that is used to justify EPA's costly regulations. The HONEST Act requires EPA to base new regulations on sound science that is publically available, and not hidden from the American people. The days of 'trust me' science are over. Allowing EPA's data to be independently reviewed promotes sound science that will restore confidence in the EPA decision-making process. With House passage of this critical bill, we are one step closer to a more open and honest EPA."

Background

The HONEST Act of 2017 was introduced by Smith and cosponsored by Cuellar, Frank Lucas (R-Okla.), Andy Biggs (R-Ariz.), Jim Banks (R-Ind.), Dana Rohrabacher (R-Calif.), Bill Posey (R-Fla.), Mo Brooks (R-Ala.), Randy Weber (R-Texas), Brian Babin (R-Texas), Gary Palmer (R-Ala.), Clay Higgins (R-La.), Randy Hultgren (R-Ill.), Jim Bridenstine (R-Okla.), Ralph Abraham (R-La.), Darin LaHood (R-Ill.), Daniel Webster (R-Fla.), Roger Marshall (R-Kan.), Neal Dunn (R-Fla.), Pete Sessions (R-Texas), Jason Chaffetz (R-Utah), David Schweikert (R-Ariz.), Bruce Westerman (R-Ariz.), Steven Palazzo (R-Miss.), Don Young (R-Alaska), Joe Barton (R-Texas), Stevan Pearce (R-N.M.), Paul Gosar (R-Ariz.), Scott Tipton (R-Colo.), and Bob Goodlatte (R-Va.).

The HONEST Act gives independent scientists a fair chance to validate the studies EPA uses to make new regulations. This bill affirms laws prohibiting the disclosure of confidential or proprietary information. The bill does not require retroactive action; it focuses on future regulations issued by the agency. The bill forges a new path forward embracing scientific integrity and open government.


5) US Coal Production On The Rise As Gas Prices Go Up
U.S. Energy Information Administration, 29 March 2017

After falling in six out of seven quarters since mid-2014, coal production rose in the third and fourth quarters of 2016.

Source: U.S. Energy Information Administration, Weekly Coal Report and Quarterly Coal Report and U.S. Mine Safety and Health Administration

Among the coal supply regions, the Powder River Basin in Montana and Wyoming saw the largest increases in the second half of 2016. The increases in coal production were driven by an increase in coal-fired electricity generation, which occurred as natural gas prices increased.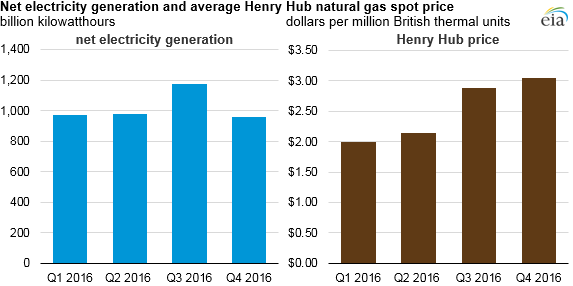 Source: U.S. Energy Information Administration, Electric Power Monthly, and New York Mercantile Exchange
---
Electricity generation accounts for more than 90% of domestic coal use. During the third quarter of 2016, warmer-than-normal temperatures led to increased electricity generation—the highest on record for those three months combined—which resulted in higher consumption of coal compared to the first half of 2016. In the fourth quarter, even as electricity generation declined, because natural gas prices remained higher than in previous quarters, the natural gas share of electricity generation fell and coal consumption increased slightly. During December, the coal share of monthly electricity generation surpassed that of natural gas for the first time since January 2016.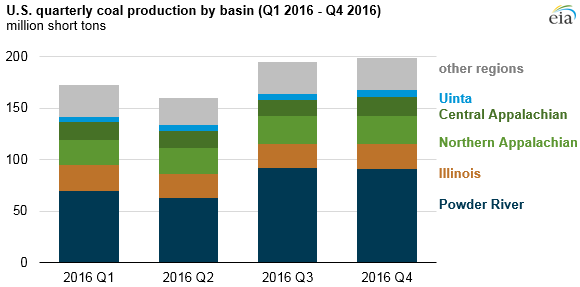 Source: U.S. Energy Information Administration, Quarterly Coal Report, and U.S. Mine Safety and Health Administration

Full post

6) China's Coal Power Generation Rising For Second Year: Citi
Platts, 31 March 2017

China's coal-fired power generation as a percentage of the total energy mix is on the rise for the second year, despite the push towards renewable capacity additions in the country, Citi analysts said Friday.

The share of thermal power in the generation mix declined to 73% in 2015 from 83% in 2011.

Thermal has since grown to 74% of the mix in 2016 and to 78% in January-February this year, the analysts said.

"Hydropower generation was down 5% year on year in January-February 2017 and that contributed to thermal power growing faster than overall power demand," they said.

A 5% growth in China's coal-fired power generation would mean an additional consumption of about 65 million mt of coal, with the size of the entire seaborne market at about 850 million mt, the analysts said.

China's January-February total coal imports have surged 48.5% year on year to 42.61 million mt, according to customs data.

Nuclear and wind — which account for about 4.8% of the mix — and solar, which accounts for less than 1%, are continuing to grow at double-digit percentages, but they are "still a small proportion" of the overall electricity demand balance, the analysts said.

Full post

7) Surprise: Thousands Of Polluters In Northern China Fake Emissions Data, Resist Checks
South China Morning Post, 31 March 2017

At least 3,119 polluters have faked emissions data and even resisted checks from environmental inspectors, the ministry of environment said, summarizing its latest efforts to tackle the smog that often shrouds the north of the country.

Many local governments still "don't act, or act blindly" to clean up air pollution, the Ministry of Environmental Protection said a statement published on its website.

In one example, the local government in Shijiazhuang in Hebei province still has a "green path" to approve and encourage the installation of new coal furnaces.

The ministry dispatched 260 inspectors in 18 teams to visit 8,500 polluters in the north of the country, most of them factories, mines and heating energy providers.

The inspections were in 18 of the most polluted cities in China, including Beijing, Tianjin and Shijiazhuang from February 15 to March 18.

Full story

8) South Africa Gives Green Light For Shale Gas Fracking In The Karoo
News24, 31 March 2017

Cape Town – The government has given the go-ahead for shale gas development in the Karoo region, Mineral Resources Minister Mosebenzi Zwane said on Thursday.

He revealed this during a community engagement on shale gas development in Richmond, in the Northern Cape.

"Based on the balance of available scientific evidence, government took a decision to proceed with the development of shale gas in the Karoo formation of South Africa," he said in a speech.

He said the regulatory framework would ensure that shale gas was "orderly and safely developed" through hydraulic fracturing, commonly known as fracking.

"The finalisation of Mineral and Petroleum Resources Development Act (MPRDA) amendments will also help to expedite the development of shale gas," Zwane said.

The department estimated that up to 50 trillion cubic feet (Tcf) of shale gas was recoverable in the Karoo Basin, especially in the Eastern, Northern, and Western Cape provinces.

He said it was in their interests to ensure all South Africans benefited socially and economically from the mineral wealth.

Full story

9) Editorial: Lessons From Trump On Coal
The Australian, 31 March 2017

In view of Australia's decline from being one of the world's cheap-energy economies into one of the most expensive — where power prices have doubled in a decade — governments in this country cannot afford to overlook important lessons from Donald Trump's swift move to end Barack Obama's war on coal and his predecessor's other so-called "progressive" climate change preoccupations.

In the interests of promoting investment, growth and job creation, the US President has made energy security and affordability a priority. In doing so, he has unceremoniously dumped his predecessor's signature Clean Power Plan, with its punitive environmental regulations that have harmed the US economy while doing little to reduce carbon emissions or temperatures.

Such realism is long overdue from the White House. Mr Trump's policy is designed to give US manufacturing industries assured supplies of cheap energy, a significant advantage over competitors in other countries, including Australia, in seeking investment. The Obama plan compelled state authorities to retire coal plants early. The cost to the US economy, according to the American Action Forum, would have been $US1 trillion in industrial output, with the loss of 125,000 jobs. Householders and business were facing double-digit percentage increases in power costs and a less secure grid.

Despite such heavy economic and social costs, Mr Obama's own former assistant secretary for fossil energy, Charles McConnell, estimated that a full year of US carbon emission reductions resulting from the former president's anti-coal drive would be offset, in 2025, by just three weeks of Chinese emissions. Last year Mr McConnell described the Obama plan as "all pain, no gain". Consumers in Victoria facing another 20 per cent hike in power costs as a result of yesterday's closure of the Hazelwood power station in the Latrobe Valley will understand. So will long-suffering South Australians who have borne the fallout of the Weatherill government's unrealistic renewable energy target.

Predictably, environmentalists in the US are claiming Mr Trump has unleashed a "climate destruction plan". But it is hard to argue against a policy that puts an end to Mr Obama's ideological obsession with waging war against fossil fuels and deals realistically with the need to save jobs and secure cheap, reliable energy supplies. Mr Trump is right to fulfil the pledge that did so much to win him blue-collar support in last year's election. For now, Mr Trump has left open the question of whether he will withdraw the US from the Paris climate deal. The deal Mr Obama agreed to would force emission reductions on the US of 26 per cent by 2025 (over 2005 levels) and 32 per cent by 2030, targets Mr Trump has branded, correctly, as "a crushing attack on American investment". He's right. Even Mr Obama's entire Clean Power Plan could not have achieved those targets.

Mr Trump's realistic energy policy should encourage other nations to reassess. Worldwide, 1500 coal-fired generating plants are being built or are at the planning stage. At least the Turnbull government is on the right track in encouraging the construction of new clean-coal-fired power stations­ in an effort to mitigate Australia's energ­y security and pricing crisis.
The

London-based

Global Warming Policy Forum

is a world leading think tank on global warming policy issues.

The GWPF

newsletter is prepared by Director Dr Benny Peiser - for more information, please visit the website at

www.thegwpf.com.