Britain Looking To Renege On Climate Goals Post-Brexit
1) UK To 'Scale Down' Climate Change For Post-Brexit Deals
The Sunday Times, 9 April 2017
Tim Shipman, Political editor

Government papers reveal plan to tone down stance on environment in bid to win deals with Latin America and Africa


Civil service documents, photographed on a train, reveal that Britain plans to scale down its concern over climate change and the trade in illegal wildlife to clear the way for post-Brexit trade deals.

Details of the policy change were contained in the papers of a senior civil servant at the Department for International Trade (DIT) photographed by a passenger earlier this month.

They include the speech notes of Tim Hitchens, the director-general of economic and consular affairs at the Foreign and Commonwealth Office (FCO).

The notes show he will tell diplomats and trade negotiators that they need to change their focus if the UK is to fulfil Theresa May's vision of Britain as "a great, global trading nation".

"You have a crucial role to play in posts in implementing our new approach to prosperity against the huge changes stemming from last year's Brexit vote," the notes say.

"Trade and growth are now priorities for all posts — you will all need to prioritise developing capability in this area. Some economic security-related work like climate change and illegal wildlife trade will be scaled down."

Hitchens was unavailable for comment but Whitehall sources said the change of emphasis will make it easier to sign trade deals with countries in Latin America and Africa. At the moment, trade and aid arrangements with these countries can get bogged down with clauses that put environmental protections ahead of economic prosperity.

Full story

2) UK Looking To Renege On Climate Goals Post-Brexit – Reports
PV Magazine, 6 April 2017

The British government is assessing ways to scrap pledges made to hit 2020 clean energy targets without incurring any penalties, reports Bloomberg, in a first sign of the country reneging on mandatory environmental action made under EU membership.
British PM Theresa May signed Article 50 on March 29, thereby formally beginning the process of the UK's withdrawal from the EU. photo: Number 10/Flickr

The U.K.'s treasury and business department is seeking ways to scrap the country's binding EU target of sourcing 15% of its energy from renewable sources by 2020, reports Bloomberg.

Citing an anonymous individual with knowledge of the matter, Bloomberg says that officials are hopeful that a post-Brexit Britain can avoid the fines and penalties associated with missing its EU target if they can find ways to abandon the goal – a goal that the country is unlikely to hit either way.

Fines could run into the tens of millions, and officials believe that rather than fall short and face the penalty, the far easier option for Brexit Britain is to take its foot off the clean energy accelerator, rather than press ahead with scaling up investment in wind and solar power.

If the U.K. is successful in wriggling out of its obligations, it would be another tangible sign that the country is increasingly out of step with the majority of mainland Europe.

Full story

3) Christopher Booker: Every Climate Initiative Imposed On Us By Politicians Has Ended In Disaster
Daily Mail, 8 April 2017

'The truth is that every single green scheme the politicians have fallen for has proved to be a total fiasco: failing to achieve any of the results claimed for them and costing us more billions with every year that passes.'

What a parable for our times the great diesel scandal has been, as councils vie to see which can devise the heaviest taxes on nearly half the cars in Britain because they are powered by nasty, polluting diesel.

This week, it was announced many diesel drivers will soon have to pay fully £24 a day to drive into Central London, while 35 towns across the country are thinking of following suit. Already some councils charge up to £90 more for a permit to park a diesel car.

The roots of this debacle go back to the heyday of Tony Blair's government, when his chief scientific adviser, Sir David King, became obsessed with the need to fight global warming.

Although he was an expert in 'surface chemistry' — roughly speaking, the study of what happens when, for example, a liquid meets a gas — King had no qualifications in climate science.

On one occasion he famously told an environmental audit committee of MPs that the world was warming so dangerously fast that, by the end of this century, the only continent on earth left habitable would be Antarctica.

His light-bulb moment came when he learned that diesel emits less CO2 than petrol. What a brilliant way it would be to save the planet, he thought, to manipulate the tax system to encourage motorists to make the switch — which millions did.

And here we are 15 years later, being told that, as an unexpected side-effect, more than ten million diesel vehicles on Britain's roads are chucking out so much nitrogen oxide and other toxic pollutants they are being linked to 12,000 premature deaths a year.

This is only the latest in a seemingly endless flow of examples of supposedly 'green' government schemes which, one after another, turn out to have been standing common sense on its head, at a cost which is rocketing up by billions of pounds a year.

There may be other competitors for the title of the greatest scandal in Britain today, but this is so crazy that it is time we all woke up to how damagingly mad it has become.

Nine years ago, MPs voted almost unanimously for then Labour minister Ed Miliband's Climate Change Act, thus making Britain the only country in the world committed by law to cut its 'carbon emissions' by 80 per cent in just 40 years.

Not one of those politicians bothered to wonder how in practice such an absurdly ambitious target could be met: which is why we have since seen successive governments thrashing about trying to adopt one dotty 'green' scheme after another.

Last week, I was asked in conversation: 'Why is it that almost all these green schemes seem to end up as a fiasco?' To which I replied: 'You've only got one word wrong there. You can leave out the word "almost".'

The truth is that every single green scheme the politicians have fallen for has proved to be a total fiasco: failing to achieve any of the results claimed for them and costing us more billions with every year that passes.

Consider the scandal of Drax in Yorkshire, until recently the largest, cleanest, most efficient coal-fired power station in Europe.

Now, thanks to an annual half-a-billion pounds of public subsidy, Drax has been switching from burning coal to millions of tons a year of wood pellets.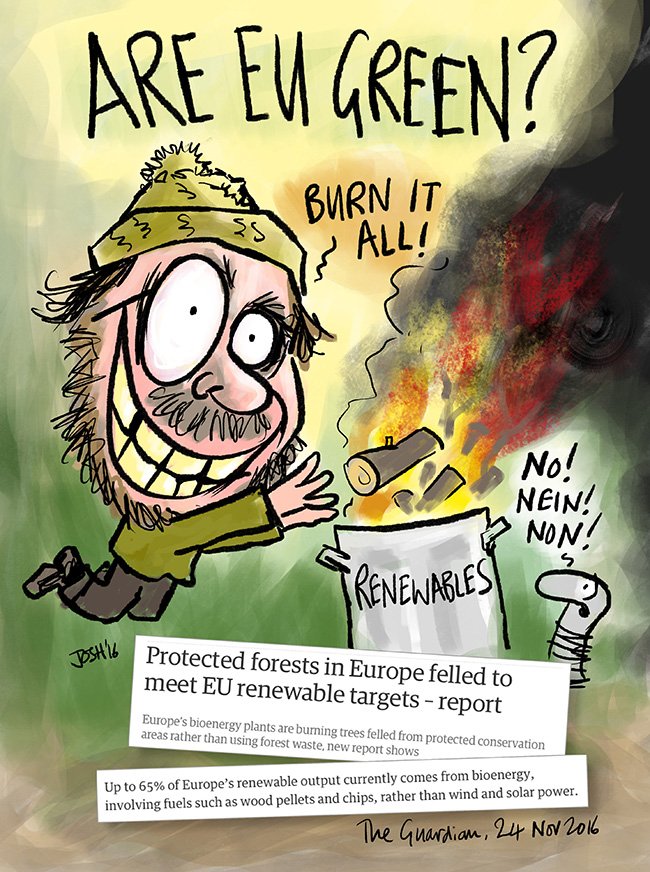 Absurdly, these are shipped 3,500 miles to Britain from the U.S., where vast acreages of virgin forest are being felled, supposedly to be replaced with new trees that will eventually soak up all the CO2 emitted by burning them.

Unfortunately, a bright spark has just pointed out in a report for a respected think-tank that it could take a replacement tree hundreds of years to grow to maturity — which would be far too long to have any supposed effect on any climate change. (It should be noted that the former coalition energy minister Chris Huhne, having been released from prison for perverting the course of justice over speeding points, became the European chairman of a firm called Zilkha Biomass, which makes its money supplying wood pellets from North America to Europe.)

The bottom line is that a new report has just confirmed that, far from reducing its CO2 footprint, Drax is now emitting more than it did when it was only burning coal.

Meanwhile, why is Northern Ireland going through its worst political crisis since the end of the Troubles? Because of the collapse of its power-sharing government over another green scheme, the Renewable Heat Incentive.

When businesses discovered that for every £100 they paid for wood chips to heat their offices, warehouses and factories, UK taxpayers would pay them £160 in subsidies, not surprisingly they kept their boilers running round the clock as if there were no tomorrow.

When it was discovered that, by 2020, we will have paid those businesses £1 billion — even to heat buildings left empty for years — this created such a scandal that it brought down the government.

That example made headlines, but the same is happening quietly in the rest of the country, too, where owners of large houses openly boast that they are running their boilers flat out, even in summer, to cash in on the racket which gives them a 60 per cent profit on every £1 they spend on wood chips.

Some of that wood is now coming from clearing priceless ancient woodlands, such as a National Trust estate in Cheshire which the charity plans to turn back into open heathland.

Another scandal created under the same scheme is the way canny developers are plonking down large industrial installations called 'anaerobic digesters' in the middle of the English countryside, to turn huge quantities of crops into small quantities of methane for the national gas grid.

Official figures show that, thanks to subsidies costing us more than £200 million a year, 131,000 acres of maize are now being grown to feed the anaerobic digesters, on land formerly used for food crops.

Separately, toxic spills of the ammonia that is used in the process have repeatedly poisoned livestock and fish in nearby fields and rivers.

Then there was the dream of 'carbon capture and storage', for which Gordon Brown's government offered £4 billion for companies to come up with a way of removing CO2 from the coal and gas used to make electricity, and then piping it away for burial in holes under the North Sea.

Only one Scottish power station took up the offer, spending £1 billion before it discovered that it didn't work.

But even though geologists say it can never work, the Government still talks about it as the only way it can allow coal and gas-fired power plants — which still supply more than half our electricity — to stay in business.

Consider, too, the not-so brilliant idea of bribing motorists to switch to supposedly 'green' all-electric cars. So far, this has cost us more than £50 million in subsidies, for the mere 50,000 cars which have been sold, at £25,000 or more a time. This is only a fraction of the 26 million cars on Britain's roads.

And what gets cynically hidden by the authorities is that much of the electricity used to charge their batteries comes, of course, from fossil fuels. Add in emissions from the manufacturing process and, unsurprisingly, these vehicles give out more CO2 than they are claimed to save.

Yet under the latest 'carbon budget', a five-yearly environmental plan nodded through by MPs to meet our commitments under Miliband's misguided Climate Change Act, they still fondly imagine that, within 13 years, 60 per cent of all Britain's cars will be electric. [...]

When we consider that colossal sum, most of us may well conclude that our politicians must have gone completely off their heads.

Except that, alas, our MPs live in such a bubble of unreality that few will even have looked at those terrifying figures, let alone at what they are allowing our money to be spent on.

It was exactly a year ago that Theresa May's joint chief of staff Nick Timothy described the Climate Change Act as 'a monstrous act of national self-harm'. It is high time his boss realised just how chillingly right he was.

Full post

4) And Another Green Fiasco: Wind Farms Could Be Paid To Stop Producing Power
The Times, 7 April 2017
Emily Gosden

Wind farms could be paid to switch off their turbines this summer as the growth of solar panels leaves the national network swamped with too much power.

National Grid, which manages the network, forecast yesterday that the minimum demand on the high-voltage power grid would fall to a record low this summer because of the continued installation of rooftop panels and solar farms.

As more households and businesses generate their own electricity and more solar farms supply power directly into local networks, National Grid has experienced a significant drop in the amount of electricity that needs to be drawn from the national system.

"With falling minimum demands on the transmission system, we anticipate there may be times this summer when there is more generation on the system than is needed," National Grid said in its annual summer outlook report.

Full story

5) Permanent Drought? California's Rainy Season Now Ranks 2nd All Time In 122 Years Of Records
The Mercury News, 7 April 2017

California's current rainy season can no longer lay claim to being No. 1. After relatively modest rainfall in March, this season now ranks as the second wettest in 122 years of record-keeping, according to data released Thursday by federal scientists.
Between October 2016 and March 2017, California averaged 30.75 inches of precipitation, the second-highest average since such records began being kept in 1895, according to the National Centers for Environmental Information, part of the National Oceanic and Atmospheric Administration.

The new No. 1 is the old No. 1, 1982-83 (34.38 inches average), when a series of powerful and deadly El Nino storms brought high wind, heavy rain and heavy snowfall across all of California. The storms that year resulted in widespread flooding and mudslides to coastal mountain ranges, causing 36 deaths, according to the Western Regional Climate Center.

The statewide precipitation values given by NCEI "represent area weighted average of values observed at weather stations across the state," according to Nina Oakley, a California Climate Specialist with the Western Regional Climate Center, part of NOAA.

This season was the wettest through the end of February, fueled largely by a conveyor belt of "Pineapple Express" storms that inundated much of the state with rain and snow. The water year (October through September) record for California is 1982-83, which totaled an average of 40.41 inches of rain, according to the NCEI data. […]

The record precipitation has allowed California to pull out of a five-year drought. In March 2016, just 5 percent of California was classified as free from drought. As of April 4, 2017, 91 percent of the state was no longer in drought condition, according to federal scientists.

Full story

6) Despite NOAA Denial, Growing Number Of New Studies Confirm Global Warming Hiatus
GWPF, 8 April 2017

Despite widespread denial among climate activists, a growing number of scientific research papers in recent months have confirmed the global warming hiatus, trying to explain its possible reasons (for the latest studies see here, here and here). The latest study claims that the Southern Ocean played a critical role in the global warming slowdown.


The post-2002 global surface warming slowdown caused by the subtropical Southern Ocean heating acceleration
Geophysical Research Letters, 27 March 2017

Abstract: The warming rate of global-mean surface temperature slowed down during 1998-2012. Previous studies pointed out role of increasing ocean heat uptake during this global warming slowdown, but its mechanism remains under discussion. Our numerical simulations, in which wind stress anomaly in the equatorial Pacific is imposed from reanalysis data, suggest sub-surface warming in the equatorial Pacific took place during initial phase of the global warming slowdown (1998–2002), as previously reported. It is newly clarified that the Ekman transport from tropics to subtropics is enhanced during the later phase of the slowdown (after 2002) and enhanced subtropical Ekman downwelling causes accelerated heat storage below depth of 700 m in the subtropical Southern Ocean, leading to the post-2002 global warming slowdown. Observational data of ocean temperature also support this scenario. This study provides clear evidence that deeper parts of the Southern Ocean play a critical role in the past-2002 warming slowdown.
The

London-based

Global Warming Policy Forum

is a world leading think tank on global warming policy issues.

The GWPF

newsletter is prepared by Director Dr Benny Peiser - for more information, please visit the website at

www.thegwpf.com.